NASCAR driver Kurt Busch was ordered by a judge to stay 100 yards away from ex-girlfriend Patricia Driscoll, to undergo a mental health evaluation, and to abstain from buying or possessing firearms or ammunition.
According to the Associated Press:
Driscoll, 37, filed for protection in November, saying Busch assaulted her inside his motorhome at Dover International Speedway in September, grabbing her by the face and neck and slamming her head three times into a bedroom wall. She said she drove to Dover from her Maryland home to check on Busch after he sent several texts that led her to believe he might be depressed.
Driscoll also filed a criminal complaint with Dover police, but the Delaware attorney general's office has not yet decided whether they will pursue criminal charges.
Busch completely denied Driscoll's allegations:
He testified that he repeatedly told Driscoll to leave after she showed up uninvited and unannounced at his motorhome a week after he broke off their relationship. He said Driscoll demanded that he tell her son to his face that their relationship was over, and that she ignored his repeated requests to leave.

Finally, Busch said, he cupped Driscoll's cheeks with his hand, looked her in the eye and told her once again that she needed to leave. A Dover police detective testified that Busch told him Driscoll's head "tapped" the wall at that time.

Driscoll's neighbor testified that she saw marks on Driscoll's face and neck when she returned to her Maryland home several hours after the alleged assault.
G/O Media may get a commission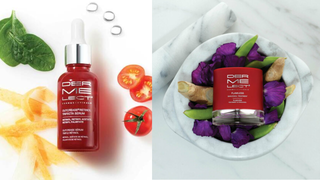 Save $19
Retinol Renewal Kit
Busch's strange testimony at the hearing included the assertion that Driscoll is a trained assassin who could easily take him in a fight; his motorhome driver also testified that Driscoll referred to herself as a trained assassin for the U.S. government. Driscoll denounced these claims as "ludicrous":
Driscoll, who runs a small Washington, D.C.-based defense consulting firm and is president of the Armed Forces Foundation, a nonprofit for veterans, says claims that she is a mercenary and hired killer are "ludicrous." She suggested that they stem from a fictional movie script that she has worked on and which Busch proofread for her.
Additional details and the opinion supporting Commissioner David Jones's order will be released Friday.
Image via Getty