Are you using Sachajuan? I spent weeks looking for samples after reading about how their hair products are full of sea algae, or something, and isn't that what Crème de la Mer is made of? Or, at least what mermaids use? Anyway, couldn't find samples so I bit the bullet and spent about $80 total on the Normal Shampoo, Conditioner and Hair Repair. My hair is fine, but I've got a lot of it, so it is prone to snarls and it's hard to find products that reduce snarls without weighing my hair down. No more! My hair feels clean, not dry. It's shiny, not greasy (for three days!). The smell is kind of old lady, but in a way I find comforting — like napping with my great-grandma — and is mild enough not to compete with other scents I wear. Plus, the bottles are great looking.
In the shower, I lather down with a bar of Tone Cocoa Butter Bar Soap, because it's what my dad always bought and I've just never had a reason to switch. I buy a 10-pack once or twice a year and keep it under the sink. I also wash my face with it, which is against the rules, I think, to use regular soap on your face?
Once the shower is off, but I'm still in it, I use a Misto Oil Sprayer (seriously, the kitchen gadget) to coat myself in olive oil with limited mess/waste, face included. It's extra virgin, but that's just because I fill it with the same Trader Joe's oil I cook with. Once this soaks in, and I've toweled my hair, I slap on a layer of Palmer's Cocoa Butter. This time of year, I cannot moisturize enough, and this combo both works and doesn't leave me feeling too sticky to get dressed. Then I use Sure Aerosol Unscented deodorant, another habit picked up from my dad and brother.
Despite not planning to blow-dry my hair today, I distribute Rusk Thermal Serum throughout the ends, and finger comb. Then I drink coffee for a while and hope my hair will dry "good" today.
G/O Media may get a commission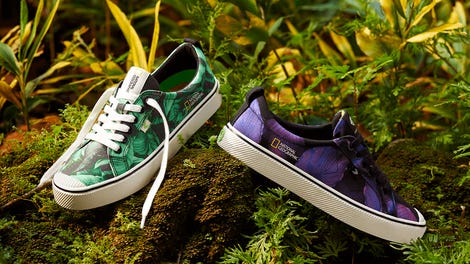 New New New
Cariuma + National Geographic
Most days, today included, I don't wear much eye make up. My eyes burn constantly. Drinking a lot of water helps, as does sleep, but wearing eye makeup (and later, the process of removing it) is the worst culprit. They hurt, and then they water, making the skin around my eyes dry. A couple of drops of Clear Eyes Cooling Comfort helps. I'll still risk it all sometimes for a thick Stila All Day liquid eye liner look, and I have found that applying it before any face makeup is key to all day, smudge proof, cat eye purrfection.
For foundation I use Clinique Even Better in Golden Neutral, applied with my hands. Seriously, I rub it all over my fingers and slap it on all willy-nilly and slide the last bits down under my jaw line with my palms. It's heavier coverage than I like, but since Smashbox quit making Sheer Focus, it's the only foundation I've found that is yellow enough for my skin, without making me look like I have jaundice. I dot Makeup Forever Concealer in Flesh 4 around the corners of my nose and under the bridge, again applied with my fingertips.
On my cheeks goes some Tarte Park Avenue Princess Bronzer in the classic "E & 3" pattern, and Nars Blush in Gaiety lightly and up my cheekbones from the apples of my cheeks.
I always do my brows. Currently, I'm using a pencil in a cheasnut-ish color that I can't tell you anymore about because it's sharpened down to a nub and I can't read anything on the label. It was part of a gift box or something. I spray J Beverly Hills Hairspray on a spindle brush and brush them into place. I don't get down with clear mascara or brow gel; it always feels gunky and itchy.
Next, some Benefit Sun Beam Highlighter goes on the arches of my brow, cheekbones, inner-eye and on the peaks above my top lip. I line my water line with a Dolce & Gabana Eyeliner Crayon in a gold that I'm not sure they make anymore and then I curl my eyelashes with a classic curler, heated under a blow dryer for 10-15 seconds. You still can't see them because they are blonde and fine. WHATEVER.
Once my hair is mostly dry I spray it with Rusk Thermal Shine Spray and flop it all over to one side of my head, always. Without liner, I swipe Kat Von D Studded Kiss Lipstick in A-Go-Go. I am a big fan of bold lipstick. I rotate between this, Lip Tar Hoochie and MAC Cyber. My best advice about lipstick: just suck it up and wear it. The color that "works best" with your complexion is the color you were born with, which defeats the point, so have some fun. Lipstick looks best when you are laughing a lot.
I am a perfume junkie. Today I sprayed Escentric Molocule 1 and Bvlgari Omnia, a combination that makes me smell like an expensive hotel, or maybe not. Either way, I get lots of compliments.
Throughout the day, I brush Tarte Clay Finishing Powder if my forehead gets oily (also! I sometimes use this to matte-ify my glossy lipsticks, because matte lipstick, like all trends, will be dead before you know it), and reapply lipstick, but that's it. Within a few hours I just look like this:
Before bed I wash my face, with boring Tone again, followed by MedySkin Anti Aging Vitamin C Oil , which is fine. My understanding is that Vitamin C is not easily stabilized, and this stuff was only $6 at TJ Maxx, so I'm probably only getting moisturizing benefits from the coconut oil that is listed as the first ingredient. However, the bottle looks so serious and has a dropper. Then I spend the rest of the night slathering on Vaseline every time I wake up so my lips might live for another day of lipstick.
Nancy Golombisky manages a (fantasy) basketball team in Nashville. She's also the little sister of this here blog's editor, Jane Marie.