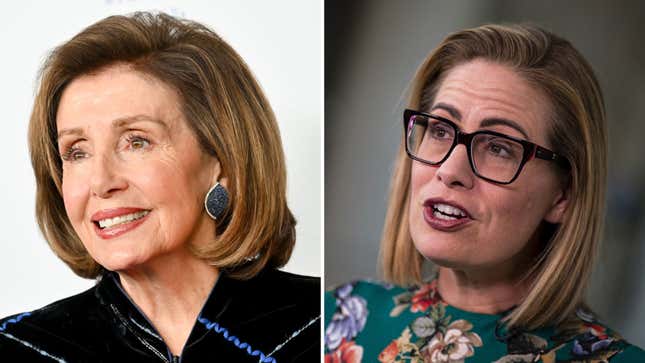 The 2024 Arizona Senate race just got a little more interesting, as former House Speaker Nancy Pelosi (D-Calif.) is now officially fundraising for Rep. Ruben Gallego (D-Ariz.), who's running to oust incumbent Sen. Kyrsten Sinema's (I-Ariz.).
Republicans Pull Out All the Stupid Stops While Debating Abortion
NBC News reports that Pelosi will be a special guest at a fundraiser for Gallego on Thursday. It's quite rare for Pelosi to campaign against a fellow Democrat, but Sinema left the party in December and became an independent after finding herself siding with Republicans on issues like filibuster reform and the minimum wage. Sinema has not said whether she's seeking reelection, but her chances aren't looking good if she does: The senator has a net favorability of -23 in Arizona, per a statewide poll from April first reported by Jezebel. According to that poll, Sinema has virtually no chance of winning reelection, regardless of which Republican may decide to join the three-way race against her and Gallego.
Pelosi has not formally endorsed Gallego, but she does have a history of supporting her relatively moderate Democratic House colleagues in their races against both Republicans and progressives. She's endorsed Rep. Adam Schiff to succeed the retiring Sen. Dianne Feinstein in California's crowded Democratic primary, for instance, despite the more progressive Reps. Katie Porter and Barbara Lee also throwing their hats in the race. And she tends to support incumbents over challengers, even when they don't share her politics—as evidenced by her supporting anti-abortion Rep. Henry Cueller (D-Texas) over his progressive challenger, Jessica Cisneros (which drew a lot of criticism from the left).
It's actually quite surprising, given Pelosi's history, that she would step into the Arizona race against Sinema, even given the fact Sinema has recently switched parties. Perhaps she knows Sinema won't actually run for re-election; or perhaps she was so betrayed by Sinema's party swap that she feels justified in gunning against her. Either way, this is a very, very interesting development in a must-watch 2024 race.