There is at least one obvious reason LOVE decided to put Kate Moss and seven other naked models on the cover of its third issue. However, editor-in-chief Katie Grand would have it that theirs was a nobler intent: body diversity.
It certainly wasn't to boost circulation in a challenging economic environment for relatively new titles, oh no, or to generate media attention. Rather than admit the sin of running a business, Grand explains her purest motives thusly:
"[W]e took eight women who are generally acknowledged as the most beautiful in the world, got them to show off their bodies — widely regarded as the most perfect in the world — and photographed them all in exactly the same position for the cover. We did this to show how much they differed physically from one another, which is why we also printed their measurements.


Left to right: Daria Werbowy, Jeneil Wiliams, Kate Moss, and Lara Stone.
The measurements Grand refers to are apparently supposed to be some kind of tease-to-print to make us rush out and buy the issue. Unfortunately they're all pretty much listed on these women's Wikipedia pages. The ridiculousness of this move hardly merits mention, except perhaps to point out that models by definition have standardized measurements. These particular women range in measurements from 32.5"-34.5" in the bust, from 23"-25" in the waist, and from 34"-35" in the hips.
G/O Media may get a commission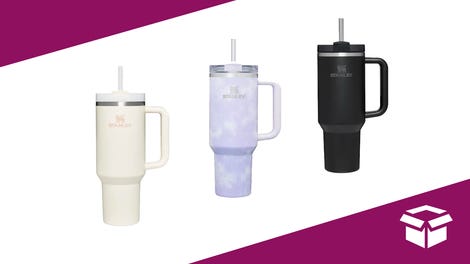 Up to 45% off
Stanley Cup Sale

Left to right: Naomi Campbell, Natalia Vodianova, Amber Valletta, Kristen McMenamy
Kind of like the last time a nude supermodel was trotted out on a fashion magazine cover to inspire "awareness" of body diversity, we're a little confused. Allow Grand to explain again: "The point is that 'perfection' is not fixed, timeless or transcendent. It varies, as the measurements of our cover girls show." Yes. Beauty varies. Apparently by a whole inch two.
LOVE Issue Three [LOVE Blog]
Love Magazine Naked Supermodel Covers [Vogue UK]
Earlier:
Nude Supermodel Aims to Foster Self-Esteem; Kelly Cutrone Has Choice Words For Dudes Who Dump Her