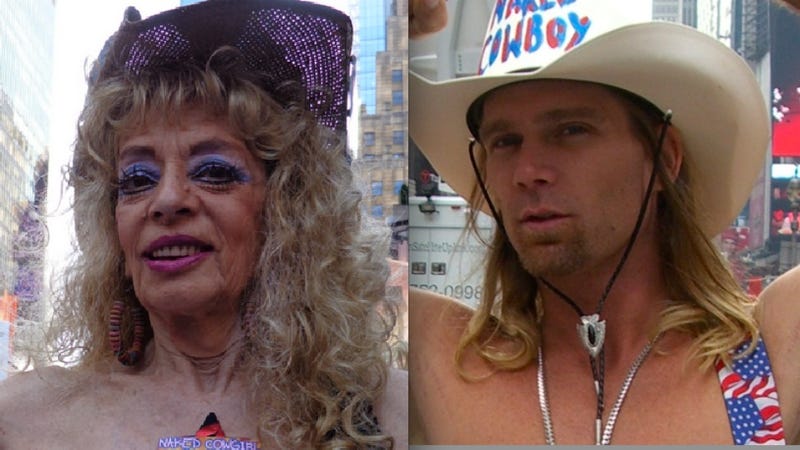 Gee, I can't wait for the prettied-up rom-com about the ongoing feud between Time Square's Naked Cowboy Robert Burck and Naked Cowgirl Sandy Kane.
May I suggest Illeana Douglas and Eric Dane with the opening credits set to Lady Antebellum? (Harvey Weinstein, you can send my check to "Anna Breslaw, c.o. Bottom Of The Ocean.")
Kane, a former stripper — famous for lighting her breasts on fire! — who used to perform with Peaches, is now a six-year vet of guitar-wielding nudity. She's tired of competing for tourists' attention with Burck and his cowgirl posse, and plans on attempting to trademark the Naked Cowperson (?) act. "I think I deserve it."
Kane told Page Six:
"He has a million girls. He's like a pimp out there. It's confusing people. It's a dilution of the Cowgirl. [The girls] are like an insult to the guitar. It's gotten mean on the streets. [Burck's] cowgirls are all so nasty to me. They look at me like, who the [bleep] is she? I'm like, 'I gave you a job, bitch. Be sweet.'"
In 2010 Burcke filed a lawsuit against Kane but eventually allowed her brand to be folded into the Naked Cowboy Enterprises. He's also been feuding with the Naked Indian lately, so overall this is basically just a version of Meek's Cutoff with no clothes on.
If you are interested, Kane has a basically defunct Twitter account that showcases her offensive, colorful language.