I think I had a quarter-life crisis recently. Maybe it was an existential crisis—or perhaps just a bad day. In fact, I'm (big realization here) starting to think these things we call crises—the waves of uncertainty and anxiety about our future and place in the world—is basically just called living life.

Ana Gasteyer Satirizes the Girl Boss in 'American Auto'
Either way, I had a moment and being a go-getting kinda gal, I decided to do something about it.
Depending on the status of my bank account, I find shopping to be the stress reliever that works best for me. Even when I was younger, my parents were able to elicit certain behavior or achievements out of me with some sort of reward. I don't think it's that I'm incredibly materialistic—I can scratch this itch by buying nail polish or a box of Popeye's biscuits—it's that I like incentives and some sort of tangible recognition of achievement.
This maybe quarter-life crisis, maybe just a bad day was spurred, I think, by my discontent with my age—27. It feels like a dumb, weird, in-between age. While I'm not one of those obnoxious people who thinks 27 is actually old, I am grappling with the fact that I'm pretty close to being 30, which feels important.
G/O Media may get a commission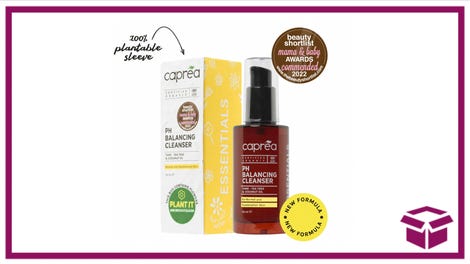 Save $9
47% Off Essential Organic PH Cleanser
Sustainable beauty
Caprea's Essential Organic PH Cleanser is just $10 with promo code TEN. Normally $19, this foaming face wash is crafted with organic Monoi oil. It's meant to target the production of oil secretion while protecting your skin against air pollution. Normally $19, you can save big on this richly-lathering face wash while supporting a brand that keeps the environment top of mind.
Naturally, then, my focus turned to my youth and how to preserve it for as long as possible: I turned to skincare. I've relied on my melanin, youth and semi-involved upkeep for too long and now it's time to be proactive.
The journey sort of began with a visit to the dermatologist. In addition to a couple other things, he really hounded me on drinking more water and wearing sunscreen, which of course I already knew, but there's something about getting orders from an actual doctor to make me less lazy.
I already wear sunscreen when I go hiking or to the beach, but he was talking every single day and pointed out that even sitting in his office, I was being exposed to sunlight through the windows.
This foray reminded me of my queen Martha Stewart who looks goddamn incredible at age 74 and gets major bonus points for doing it without the help of excess melanin.
Martha has an incredibly involved skin routine (in addition to what I'm assuming are some extra special touch-ups that she left out) involving multiple face masks, serums, toning sprays and a personal facialist, which I decided to model my new system on to the best of my ability. I should add that this all coincided with my federal tax refund (gotta love those home office deductions) so I was feeling pretty flush and in the mood to drop a lot of money.
To start, I have to say, it is incredible how big of a difference the water thing makes. I'm aiming for about three liters a day and while I am peeing constantly, I can definitely see a difference. It's cool but also rather obnoxious how easy, simple, basically free and effective this is.
And then, since I online shop like a motherfucker, I went about purchasing the rest of these products in this way. I re-discovered this website called Beautypedia that reviews and rates skincare products. Now, I do trust the site but I also remain skeptical because A) they hate almost anything in a jar packaging because of contamination and preservation issues which is true but doesn't seem quite as serious as they make it and B) the reviewer, Paula, sells her own skincare line and all of her products have the highest ratings. She also HATES products with fragrances but I don't have sensitive skin so I ignored all those complaints. Just gotta stay vigilant.
The first decision I made was on the Dr. Jart Korean Cosmetics Ceramidin Cream. Apparently Koreans have figured out skincare better than the rest of is. It has very high reviews on Sephora and I saw a few other recommendations that I trust. Apparently ceramidin is a time-release moisturizer and I can't argue with that science.
Next I went with a pretty straightforward sunscreen, Neutrogena Clear Face Sunblock Lotion, mostly because I saw it recommended by a black woman so I safely assumed it doesn't leave a white residue that is particularly unflattering for those of us with brown skin.
Like so many things in this world, I'll never fully understand toner. I'm probably skeptical because I remember using a Sea Breeze astringent when I was about 14 years old and it felt like my skin was burning off.
Because I'm not fully onboard with toner, I wasn't willing to drop a ton of money on the product. Ultimately, I landed on Thayers Alcohol-free Rose Petal Witch Hazel with Aloe Vera. Whatever, this'll work.
This is hard to admit but I'm sort of a sucker for Sephora's promotional emails. Every month or so they're pushing something new like contouring or color-correcting and they just do such a good job of curating the products and making them seem necessary. This month, Clinique was (probably) paying them to push their new Pep-Start Eye Cream.
I took the bait and also threw in a tiny tin of L'Occitane 100 percent Pure Shea Butter because I read that it's a good base for liquid lipstick which is quite possibly the greatest invention since penicillin.

If there's anything I learned from Martha it's that serums are a thing I need. Here's the thing about serums: many of them are expensive as hell. This is where I faced the biggest dilemma of my experiment. I spent a lot of time staring at, googling and considering this serum from Drunk Elephant which costs $80 for one ounce of the daytime version and $90 for the evening formula. The reviews were effusive, Beautypedia gave them great ratings and I knew I could return it either way.
Still, while I am serious about my skincare, I'm not confident that I'd be willing to drop $90 on a single ounce of one product every couple of months. Maybe when I see my first wrinkle I'll change my mind.
This is also where I got sucked in by Paula and her Paula's Choice Resist Ultra-Light Antioxidant Serum with Pure Hyaluronic Acid & Vitamins.
I hear hyaluronic acid is a good thing and I saw it recommended by people I trust. Plus, it was only $36, which felt like a reasonable person's luxury.
By now, I was in the swing of things and eager to spend money, which is such a fun but dangerous mindset.
Every few months there's a new article about how 20-somethings should start using anti-wrinkle and retinol products even in these halcyon days of their smooth-skinned youth. Honestly, I think they're just trying to scare us in order to take our money—but scare tactics are very effective, and I was already in a vulnerable state of mind.
The Neutrogena Healthy Skin Anti-Wrinkle Night Cream got great reviews by Paula and, as with the serums, I'm not quite ready to dive into the pool of absurdly expensive wrinkle products because I plan on being alive for a lot longer and don't want to get into anything unsustainable and also I still need to buy a new swimsuit this summer.
Feeling like my face was in pretty good hands, I turned to other parts of my body. Martha Stewart claims that she uses the same products on her body that she does on her face, which is ridiculous and not something I'm going to mimic.
My next purchase was the Boots No7 Protect & Perfect Hand Cream SPF 15 because the dermatologist scared me about sun exposure while I'm sitting in my car with my hands on the wheel. Like your face, your hands are almost always exposed and I don't have great hands to begin with, so better preserve what I've got.
When I'm putting lotion on my body, I always forget my feet or I just don't feel like reaching down that low. Alpha Hydrox Extra Strength Deep Therapy Foot Cream seems like any easy enough step to remember before bed. I already doubt that the Karuna Hydrating+ Hand Mask and the Karuna Exfoliating+ Foot Mask I added to my Sephora cart will be repeat purchases, but I was in the mood for an impulse buy.
Martha Stewart reportedly puts in a face mask EVERY SINGLE DAY which feels excessive. She also says that she never uses the same mask two days in a row. It is here where my commitment to emulating Martha's skincare routine is tested because that sounds annoying as hell.
I already have a mask that I love—the Origins Original Skin Retexturizing Rose Clay Mask. In Martha's honor, I also order the Acure Organics Cell Stimulating Face Mask and the OZ Naturals Amino Herbal Hydration Mask. I don't know. They had good reviews on Amazon.
As I wait for all my stuff to come in—every single thing above I ordered online—I hit up Target for fun and because I'm looking for a new cleanser.

Although I was still in the mood to splurge, like toner, I can't ever bring myself to drop a lot of money on a cleanser. I'm just not convinced, beyond getting your skin clean, that cleanser is where the magic happens.
I keep things simple with the CeraVe Hydrating Cleanser. This is also when I discover that Target sells the exact Acure Organics mask I just ordered from Amazon for $5 less than I paid. I also pick up the Yes to Coconut Protecting Hand and Cuticle Cream for regular old hydration and my trusty Aquaphor Lip Repair.
My packages start arriving and holy shit I ordered a lot of stuff. I make a stop in-store at Sephora to return one item I ordered but changed my mind about and to bulk up my mask collection. If I'm going to do this everyday without repeats, I need ammo. The First Aid Beauty Ultra Repair Instant Oatmeal Mask ends up being my final choice.

I'm finally done, I say to myself. Then, this weekend I ordered the deal of the century—eleven Tonymoly I'm Real Skin Care Facial Masks for $10.75 on Amazon. I like to put on a sheet mask before I'm doing my makeup for a big night out. It's going to take me awhile to have eleven big nights out, but at least now I'll always be prepared.
When it's all said and done, I spent about $288, which isn't as bad as I thought it would be, probably because my anxiety started to wane and my common sense came back to me. This also bodes well for the future of my skin because I'll definitely be more willing to regularly spend $36 on a serum rather than $90.
In the end, I do feel better but I'm not sure if it's because of all this shit. Buying things and opening packages is always fun—but the real joy, however, probably stems from the fact that I made a plan and followed through with it. I wanted to overhaul my skincare routine and I did. There's probably a more profound life metaphor in there somewhere but, for now, I'm just going to focus on my improved levels of hydration and any sense of accomplishment I get.
---
Martha Stewart image via Getty.