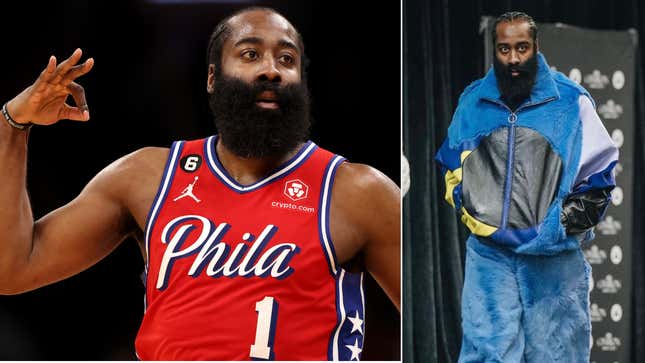 The Met Gala might not seem to have much in common with Philadelphia 76ers shooting guard James Harden, but I can name two things off the top of my head. For starters, many say that both peaked in 2018. And, more importantly, some (me) say that both made a dramatic return Monday night.
While the internet declared the best and worst Met Gala looks of the evening, my Met Gala, personally, was watching the most important man in my life make a triumphant return to form. Harden shocked the nation (or at least Twitter dot com) and dropped 45 points to win an upset playoff game over the Boston Celtics. And I found myself experiencing joy for the first time since Roe v. Wade was overturned.
Harden definitely showed up to Boston for the second round of the playoffs dressed for the Met Gala (or perhaps a lovely furry convention.) I'd argue his T.D. Garden tunnel look was the biggest fashion moment of the night, particularly given the noted correlation between the ridiculousness of his outfits and his dominance on the court. Because, where Harden's slowed down in recent years—switching from the offensive juggernaut he was during the halcyon days of his youth on the Houston Rockets to becoming a selfless facilitator on the Sixers—his 2018 self made an absolutely monstrous comeback on Monday.
It's hard for me to explain why I consider Harden the most important man in my life—maybe because I don't really have any—but from the moment I first saw his nascent but still iconic beard at age 13, as he played alongside former teammates Kevin Durant and Russell Westbrook on the Oklahoma City Thunder in 2011, something in me shifted.
As Harden and I both grew, I came to love the man beneath the beard as much as the beard itself—from the fits of rage he inspired in adult men over his strategic, if not underhanded, style of play to his reputation for patronizing and redistributing massive amounts of wealth to local women dancers. I learned his birthday was International Women's Equality Day (Aug. 26) and I quickly caught on to his oddities and eccentricities—like when he threw a three-decker cake into the ocean on his last birthday. From Harden's iconic "rise and grind!" tweet that was posted at noon to his 6 p.m. reminder to get out the vote on Election Day, his laissez-faire lifestyle of procrastination also charmed me. I came to adore the lore and internet mythology, like the baffling conspiracy theory that Harden secretly donned fat suits to get traded from teams he wanted to leave, or the viral statistical analysis on Reddit that revealed a correlation between his performance on the road and the average rating of the city's strip clubs. Or, of course, his close friend Young Thug's explanation that Harden does not have WiFi in his home.
I love this man. I've only ever wanted to see him succeed. But—between the string of Shakespearean play-off misfortunes and the Greek tragedy of being the league's most dominant player during the era of the Golden State Warriors superteam and its infuriating monopoly on league talent in the late 2010s—the years have not been kind. Harden's playoff career has been marred by one devastating act of god (or Satan, I'd argue) after another. Through all the whispers that this might finally be the Sixers' year, even with their MVP front-runner Joel Embiid seated with an injury about which we know staggeringly little, I remained a skeptic—because I've followed Harden's career long enough to know that things tend to go awry.
But Monday night gave me a glimmer of hope. It was Harden's return, his revenge on the naysayers. It was a classic basketball Cinderella story, with Harden as a better-dressed Cinderella, of course. And it was beautiful. I don't know what happens next in this series but I do know that, however difficult it may be for their kind, a lot of men owe this particular man an apology. I'll wait!