Katherine Heigl, the actress who went from America's Sweetheart to America's Most Wanted because of a very silly Emmys controversy and her reputation for being "difficult" (see: this relevant tweet), is transitioning her blog Heavenly Days from a destination for lifestyle content centered around wealthy, full-time parents to what may end up being a blog for die hard fans of the hit USA show Suits.

The news comes roughly two months after Heigl joined the cast of the long-running lawyer romdramedy (she'll be "replacing" Meghan Markle as the show's most high-profile female lead), and, frankly, I'm deeply excited about reading Heigl's thoughts on "small batch, handmade artisanal treasures" in Toronto. (Suits is filmed in Canada.)
In a lengthy post entitled "Transitions," Heigl shared that she has loved building the site up over the past couple of years, but that she can't deny her passion for performing any longer. The blog is peak Heigl: overlong but earnest, and mostly dull with a sprinkling of Too Real.
Part of me would love to retire from the screen and be a mommy blogger who works from home. Though I imagine that is not without it's trials and tribulations! Another part of me would be devastated to give up performing and storytelling. The old adage "Women can have it all" is a half truth that kind of pisses me off really. You may, as a woman, be able to have a successful career and a family but you are always, always compromising one for the other. I guess you can call it having it all, you just can't have it all at once.
She goes on to say that her time out of the spotlight has been well spent:
This past year has been a true blessing in that it allowed me that breath and silence to fall into the rhythm of "our" routine. Day by day my confidence as a mother grew and now, despite leaving my gorgeous kids behind in Utah for the next month, I feel like I can easily and confidently step back in when time allows to reaffirm our way. I can't begin to tell you what a relief that confidence is. The constant worry, guilt and shame that has accompanied my years as a working mother has been at times debilitating and has robbed me of so many perfectly imperfect moments with my kids. It always surprises me how long some lessons take me to learn, but I'm trying to give myself a break and be grateful that at least I had the wherewithal to learn it.
G/O Media may get a commission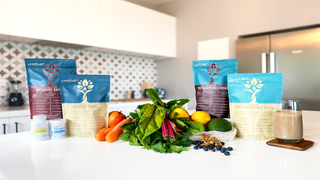 But enough about family. It's Suits time!!!!
Since my life is in transition and this is a lifestyle blog, it too will transition. The focus of Those Heavenly Days will shift a bit from crafting, cooking and hosting but will still honestly and authentically detail my lifestyle, my inspirations, my struggles, my lessons and of course my family. I'm planning a new series that will dive into what I am most deeply experiencing each month that I'm thinking will feel a bit like an edited version of a journal entry. No one wants to read the unedited version trust me! I'll continue to curate my list of favorite artisan finds and can't wait to explore Toronto for all their small batch, handmade artisanal treasures. I'm going to include you all in a day on the set from hair and makeup, to wardrobe to scene work. What my life looks like behind the camera is something I'm really excited to share since I've never done it before and it's such a giant part of who I am. My crafting projects will be limited to what I can easily take with me to work and do on set between scenes so get ready for lots of knitting and crocheting!
This is so exciting. For me.
---
Superstar sport man Tim Tebow recently sat down with People to promote his upcoming self-help book slash memoir (I think?) called This Is the Day: Reclaims Your Dream. Ignite Your Passion. Live Your Purpose. I'll give you a second to process that title.

Anyway, after a strange and sort of rude transition into Tebow's personal life ("Tebow is still single, which has become a running joke during every interview he ever gives with PEOPLE"), they move on to the subject of parenthood.
"I want to adopt so badly," he said. "I can't wait. It's definitely something I see in my future." The sport man added:
"You know what I think would be awesome? If I could adopt a kid from every continent. I think that would be a pretty cool goal. I want to sit around the dinner table every night and see kids from Africa, Asia, Europe, South America, right here in the States. How cool would that be? It's one of my favorite things to dream about."
Children: Gotta Catch 'Em All!
[People]
---
Abbi Jacobson officially came out as, well, something other than straight. Cool!

"I kind of go both ways; I date men and women. They have to be funny, doing something they love. I don't know—I've never really been interviewed about this before."
---
"Categorically 💯" is the funniest, most Gwyneth Paltrow thing.
---