Mary Ellen Mark, 75, passed away in New York City Monday. During her 40-year career, Mark photographed lepers, circus performers, street kids, hustlers, Gypsies, addicts, and anyone who, in her words, "didn't have the best breaks in life."
Mark captured the tough edges of society in a humane but realist style. She was a gifted street photographer, but what made her at portraiture exceptional was the intimacy embedded in all her pictures. Unlike Diane Arbus, whose frank and gritty style is often compared to Mark's, Mark's work featured more compassion than pity.
With a Bachelor's degree in fine arts from the University of Pennsylvania, Mark got her first big break in 1969 photographing heroin addicts in London. In the mid-1970s Mark was asked by a magazine to do a behind the scenes shoot on One Who Flew Over the Cuckoo's set at the Oregon State Hospital for the mentally ill. Mark was intrigued by the female patients and spent 36 days photographing the women for her book Ward 81. Time's Robert Hughs wrote about Mark's six week project in the hospital, saying, "What resulted was, in fact, a lamentation: one of the most delicately shaded studies of vulnerability ever set on film." In 1981, Mark went to India to document teenage prostitutes working in the red-light district of Mumbai for her book Falkland Road.
My favorite book by Mark is Streetwise, a collection of portraits of Seattle's street kids in the mid-80s with a 14-year-old streetwalker named Tiny at its center. Mark and her husband Martin Bell made a documentary about Tiny and the kids that was nominated for an Oscar. It is very much worth watching.

G/O Media may get a commission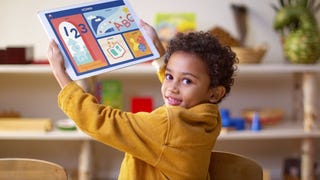 30-Day Free Trial
Homer Learn & Grow Program
The image up top of the young girl and her pal smoking in the kiddie pool was shot by Mark in North Carolina in 1990. It is my favorite image by Mark, and possibly one of my favorite photographs of anything. Mark said this of the photograph in an interview: "She's smoking a cigarette, she's on the edge, she's my favorite. She was so bad she was wonderful, she had a really vulgar mouth, she was brilliant." Mark added: "I was something of a problem kid. I was emotional, wild, rebellious at school. I'm very touched by kids who don't have advantages; they are much more interesting than kids who have everything. They have a lot of passion and emotion, such a strong will."
Mark is survived by her husband. You can see more of her work here.
Images via MaryEllenMark.com
---
Contact the author at natasha.vargas-cooper@jezebel.com.