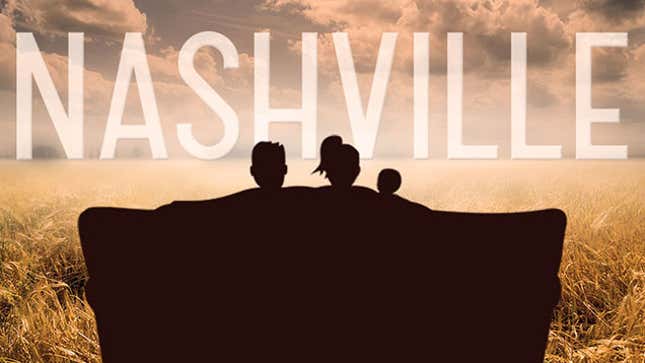 The email was a lark—hardly even a serious offer. My friend and former professor Lorrie Moore was moving to Nashville to teach at Vanderbilt, and she wrote me to say that they needed someone to fill in for a semester, to teach a single undergraduate creative writing workshop. I was six months pregnant, with no idea of what life would look like in the new year. The new year! I could hardly imagine the next week. I was planning my days in tiny, waddling steps.
I'd been to Tennessee exactly once before, for lunch. Our still yet-to-be-born son would be four months old when we arrived. We would need to find a furnished sublet and a place for our cats to bunk while we were gone. We said yes, giving into the hopeful spirit that the universe would provide what we needed, would be our net if we jumped.
If Lorrie had moved to Des Moines, we wouldn't have gone. Not because Des Moines isn't beautiful—it may well be—but because we weren't spending an hour a week watching a nighttime soap opera about it. That year, my husband and I had fallen hook, line, and honky tonk for ABC's Nashville, the show about two country musicians and the men who love them. The show had a large cast of dreamy-looking actors who were all, to our great delight, not only credible as singers but actually totally compelling, even when you weren't looking at them. Connie Britton, who had won our hearts as Tami Taylor on Friday Night Lights, played Rayna James, a sort of Faith Hill/Trisha Yearwood/Rosanne Cash hybrid. Surely if we moved to Nashville, Connie would present herself. I imagined the sort of dinner parties where someone magically produced a guitar at dessert and everyone began to sing.
Our son was born at the end of August. My husband, ever pragmatic, took one look at the baby and said that we weren't going to Nashville unless we found a house swap, that it was too complicated otherwise. I sent an email out to a few friends with contacts in town and crossed my fingers. It didn't even take a day. Libby, an adventurous redhead and friend of a friend, wrote back after a few hours. We talked on the phone and sent house-proud photos back and forth, and it was done. Libby collected butterflies in Lucite boxes and dangerous-looking vintage fixtures. Her house was the least baby friendly place I'd ever seen, but our son was so small that it didn't matter. We said yes to the delicate mirrors and the artfully stacked objets d'arts and prayed we were raising a slow mover.
We arrived at the beginning of January. The baby was four months old, and we explored the city in the small windows in between his three daily naps. Nashville itself looked gorgeous on television—sunset clung for hours and characters were always ambling in and out of each other's bungalows. In reality, it was winter and bitterly cold. Each trip out of the house required maneuvering the baby into his bear suit, a tiny fleece sleeping bag with ears. It looked as though Deacon, the show's resident troubled dreamboat, lived in East Nashville, the gentrifying neighborhood where Libby's house was, but he seemed to live in a part where it was never winter.
We found the restaurants that were open at 7 a.m., and went to them often, stuffing our faces with biscuits and jam. We went to Story Hour at the library and got the cutesy-kiddie songs stuck in our heads even though the baby was too young to sing along. Another friend of a friend recommended her recently ex-communicated Mennonite nanny's sister, also a recently ex-communicated Mennonite, as a part-time babysitter, and we hired her on the spot, both of us having visions of bonnets and homemade apple pie. Sometimes the babysitter would take a baby out for walks and he'd come home with a mouthful of grass. We hovered.
It seemed most likely that we'd run into the cast at night, but it took us three of the four months we were in Nashville to go out for dinner. Chip Esten, the actor who played Deacon, sang and played around town, as did Sam Palladio, a lanky Brit with a beautiful falsetto. The Stella sisters, who played Connie Britton's daughters, sometimes popped up on the schedule for the Grand Ole Opry. I kept an eye on the listings. Chip performed at The Bluebird Café, a real songwriters' haven on the west side of town, but they sold out too quickly, and we couldn't get tickets. When a few of the cast members were at the Grand Ole Opry, we were back in New York. They were avoiding us, it seemed.
The baby learned to sit up. He learned to sleep through the night. Once a week, I drove to campus, taught my class, and sat in someone else's office and read my students' stories. I made a few friends at the local bookstore, but mostly it was the three of us, together all the time, making our way across the city in two-hour bursts. We could have written a guidebook to the changing tables in public restrooms. We knew the people who worked at the grocery stores. Connie Britton was nowhere to be found, though Lorrie once swore that she'd seen her wearing a wig and exiting the Whole Foods parking lot in a purple convertible. It occurred to me that the television program we loved so much was actually a work of fiction, and that the actors might not exist outside the magical glowing screen.
The news came from a friend—the cast was performing a concert at the Ryman, the "Mother Church of Country Music," and through a bit of begging and finagling, I had a ticket. We put the baby to bed and then I ran out the door, waving goodbye to my jealous husband. The mother church had transformed into a television set—black cables crisscrossing the aisles and cameras on miniature zip lines overhead. A local radio DJ and actor was emceeing the evening, and despite his gray hair, I recognized him from his role in MTV's mock boy band, 2tegther. He'd moved to town for a girl, it seemed, and stayed.
It didn't sound like a bad idea. Maybe if we never left, this is what would happen—I would get hired somehow, roped into the spectacle of it.
Each song was a new excitement—this one was Claire Bowen, an Australian with mermaid hair and a voice that sounded like her mouth was perpetually full of beautiful marbles, this was Sam Palladio, this one was Chip Esten, etc. The cast sang each song two or three times, and the show stretched into the night. Connie wasn't there—she was the only member of the singing cast who wasn't. It didn't matter—Hayden Panettiere was a tiny little ball of energy, clearly so in love with the city and the audience that she accidentally swore and had to start a song from the top. I clapped and swayed and cheered and texted my husband photos. It was the latest I'd been out since the baby was born, and for several months prior.
The weather improved. Spring arrived in March, with blooming magnolias everywhere. We took walks around and around our neighborhood. We knew all the dogs in all the yards, all the outdoor cats. The baby fell in love with a weeping willow one street over, and we walked past it three times a day. Our circuits were small and getting smaller. We fought about nothing, because we had so little to do. Neither of us got any work done, and the three of us were together every second of the day. It was a little bit like heaven and a little bit like prison, only with lots of tchotchkes.
A month before we left, I decided to stop letting fate dictate whether or not the cast of Nashville entered my life. I had a stack of galleys of my new novel from the publisher, and I sent copies to five members of the cast: Connie, Hayden, Chip, Sam, and Maisy. I wrote each of them a note, in which I told them that I was a huge fan, and that I wanted to thank them for their creative gifts to me with a creative gift of my own. On paper, this sounds like a terrible idea, self-serving and awkward, but it had worked for my father, who had once brought paperbacks of some of his novels to the set of his favorite soap opera, One Life to Live, which in turn led to his close friendship with two members of the fictional Llanview Police Department, a recurring role on the show as a blind man, and a collaboration on a graphic novel. I wasn't asking for a part! I just wanted an email, or maybe a hug, or for Connie and I to sit at a restaurant and talk about how we convinced our babies to sleep through the night.
No one responded. Undeterred by the universe, we traipsed through open houses. Just like on TV, houses were bigger in Nashville than they were at home. We loved one house so much—an enormous place on a corner lot with a wide center hall and a flagpole—that we made an appointment to see it again. It was cheaper than our house in Brooklyn, and twice as big. We drove by the local public school, and sent our parents listings for apartments nearby. Nashville was more than a soap opera, it was a real place.
We wondered about the humidity in the summer months, about the frequency of tornados. All our friends were in New York, and a half dozen of them had just had children. We went days without speaking to anyone else, not counting wait staff at restaurants and friendly clerks in stores. If we bought a big house, who would come over for dinner?
Ten days before we left Nashville, on the day before Easter, my husband, son, and I were having a late lunch at a mediocre Mexican restaurant with a large sign that read 'This Year, Cinco de Mayo Falls on May 5.' We were mostly finished eating when the two actors walked in—Sam Palladio and Chaley Rose, who plays Zoey, who happens to be Sam's character's girlfriend. They were clearly a couple in real life, too—they both looked impossibly young and skinny. Sam's tank top had the deepest neckline I'd ever seen, and not in a good way. His hair had been recently cut high and tight. They were with an older couple who I assume were Chaley's parents.
I had questions. Was it the first time he was meeting her family? How did her parents feel about Sam, who was older, and a Brit? I took my baby for a walk around the restaurant, in hopes that they'd be sitting somewhere along my route, and that my child's astronomical cuteness level would prompt them to speak to me, opening up the opportunity for me to tell them how much I like their show. Sam would recognize me from the author photo on my galley—he would have read the book immediately, and have dreams of adapting it for film.
They were sitting outside. I couldn't have passed by their table unless I was posing as a waitress, which would have been hard with a 20-pound baby on my hip. And how could I interrupt what might have been one of the first meetings of one's potential future in-laws? We left and put the baby down for a nap.
We came home in May. The show started back up last week. The baby is so much bigger—standing, babbling, eating meatballs with his fists—that it hardly seems like we were gone at all. Now that the show is back on, and Nashville fills our living room again, it seems more and more like we were never there. The real estate listing for our house is gone, which probably means that someone else bought it, but I can't help but hope that the sellers took it off the market, and that it will be there for us whenever we decide the make the leap—I can see parts of our lives that I couldn't before, the baby walking back and forth down the wide hallway. Even if it's just the three of us for dinner every night in our dining room, we can still sing.
Emma Straub is a best-selling novelist. Her most recent book, The Vacationers, has yet to be collectively optioned by the cast of Nashville. More information can be found at www.emmastraub.net.
Image by Tara Jacoby. Photos via ABC and Shutterstock.