Here I am, a strong but thoughtful man who believes women deserve respect. And I never would have said it if it weren't for my young daughter.
I'm 45, which means I was in my 30s when she was born, that I had at least 30 chilled out years unburdened by the knowledge that every woman is another man's daughter. And have I enjoyed it? Hell yeah, I have. I've had enormous success in my career as an attorney for a major company that has been beset by public, unfounded scandal (did you know that most sexual harassment cases are secretly financially backed by Hillary Clinton?). I have a rich social life that often includes treating myself to a personal rotisserie chicken and catching the game at a local sports bar (drinks are half-priced for tight babes on game night) or taking in a Michael Bay retrospective at Film Forum with my ATO brothers. I relish a good pair of tits as much as the next man—I mean, I'm not dead. But now that I've given birth to my own future set of tits, I know that maybe things aren't as simple as "things I can fuck" and "things I could but don't want to."
Vice founder Shane Smith once said, "I believe the universe gave me daughters to help me understand the world better." I agree. When I look at my daughter I don't see a woman. I see myself. And that's why I think she should be legally allowed to vote and own property, and have access to equally-good soccer fields (even though women's sports are objectively as bad as the idea of war).

But I didn't always feel this way. For years I thought articles complaining about the "wage gap" and the "roaming uterus" were invented issues designed to sell greeting cards. That was, until it became personal.
G/O Media may get a commission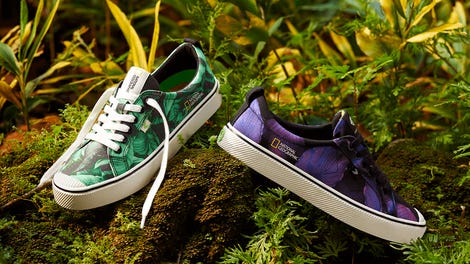 New New New
Cariuma + National Geographic
Last year, my daughter crawled onto my lap and stared at me with her wet brown eyes. "Daddy, I want to play lacrosse... on the men's team."
To think, my daughter wanted to play the number one worst sport ever created, and with the number one most odious group of "athletes" sporting today. I had never been more proud.
I immediately called Coach at school (Coach and I have back-to-back weekly appointments at Benny's Lounge for Particular Gentlemen) and said, "You'll never believe it—my little girl wants to be a laxer." He said, "Sorry, my man, team's all full up." I said, "That can't be, bro-sefa, I just saw a notice for try-outs next week." He said, "It is true, daddy. Plus, she'd never keep up with the boys, what with her constant period."
I was crushed, and so was my prepubescent daughter after I recounted our conversation to her word-for-word. I knew I had to change things for her (just her) (not her friends or her mom).
Most women are not like my daughter—some, for example, are like my insufferable wife and will chirp at you until you stop jerking off and call the cable provider to resolve the issue about the "Russian hacker operation's worth" of pornography downloaded to your network. I hate her; she has consistently hampered my ability to live well and happily (she thinks her slasher novel which has been three-quarters done for almost a decade is somehow more important than her childcare duties, and that my near-constant Lime-A-Rita consumption is "infantile" and "a bad look for the family"). But she pooped out my daughter, and for that I can only be grateful.
My emotionally-estranged babadook of a life partner is currently in the kitchen making me a ham and mayonnaise sandwich and shrieking. Luckily, my daughter inherited only a very few of her terrible traits, like her emotional hair-trigger and ability to swiftly emasculate me with an expert turn of phrase. Luckily, my daughter is growing up to be a brilliant, handsome young man, and I think that speaks quite well of me.
I love my daughter so much that I don't even care if some other, worse bitches are also elevated by this confession: I am a feminist, because I see myself in my little girl.