It's a tale as old as time: women country music singers are few and far between on country radio.
Billboard reports that for the first time since 1990, its Country Airplay chart dated December 8, which pulls from mainstream country radio stations, had no women in the top 20, and then there were no women in the top 20 again for this week's chart. Billboard also reports that only four women made their year-end Country Airplay Artists tally, and this year Maren Morris is the only woman in the top 20 (at No. 14).
Why does this matter? Well, because country radio hasn't historically been interested in promoting the music of women. Whether that's a reality due to men in radio like Keith Hill—who made headlines in 2015 for suggesting that men are the salad of country radio and women are the tomatoes—or the fault of labels who prefer to support music made by men, is unclear. Or at least, that's what country music label heads and radio programmers would like you to believe.
Billboard recently interviewed some of those executives and the quotes read like the typical cycle of finger-pointing, with many of them referring to women artists as, I'm cringing, "females." Don't trust a music executive who refers to women as females, woman or man! I'm sorry!
"Though I have no knowledge of it, I have heard anecdotally that labels signed far fewer females in recent years, which, if true, would partially explain our current airplay lapse," said R.J. Curtis, incoming executive director for Country Radio Broadcasters.
G/O Media may get a commission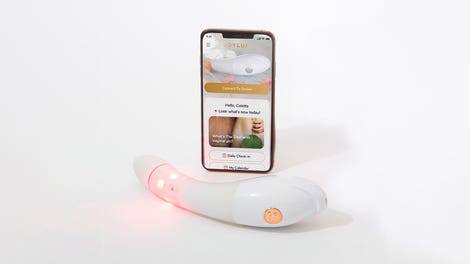 $50 Off
Joylux vFit Gold Device
Those at the labels argue that radio just isn't as important for their artists, or that radio isn't representative of what country music actually is—"We don't sign artists who live and die by the radio," John Esposito, chairman/CEO Warner Music Nashville said. Troy Tomlinson, the president/CEO at Sony/ATV Nashville, said, "Publishers make the best pitch they can with the appropriate artists who are cutting. It is a loss for our format when we have limited opportunities for great songs that are clearly written from a woman's unique perspective."
But the thing is we know that labels are pushing songs to radio. In 2016, Billboard also found that in a sample of 236 studied country singles in a period between 2014 and 2015, three female categories (solo, all-female group, and male and female group) only accounted for 35.6 percent of those singles. When they then divided that sample into large labels and small labels (the larger ones being, of course, those that would make the biggest impact), only 26.8 percent of the songs that large labels pushed to country radio included women, and 17.9 percent of those songs were just those by solo female artists. To sum up: big labels were pushing way, way more men to country radio than women.
There is this "chicken or egg" mentality that happens with this conversation over women absent on the country radio charts, and there certainly is blame to be had on both sides. Take for example this Rolling Stone report on sexual harassment at country radio stations by Marissa R. Moss, who found that these stations can often be hostile places for women artists who can miss out on opportunities to get their music played if they don't play along with gross behavior. But I'm skeptical of the insistence on behalf of labels that they're truly signing and pushing women artists at the same rates as men.
Of course, it would be easy to stick it to country radio and accept that it doesn't reflect what women in country are actually out here doing. I'm reminded of the excellent country singer Margo Price, recently nominated for a Grammy, who stopped trying to cater to the stations that would sooner label her "Americana" than country. The approach has certainly worked for Kacey Musgraves, one of the more visible artists in her genre who hasn't had great success on the country charts and yet won album of the year at the CMA awards.
And yet country radio is still seen as an important vehicle for country artists, one which could make or break them. "It's still the Number One source of discovery in country music," the CEO of Big Machine Label Group told Rolling Stone Country a few years ago. "Country fans rely on radio to discover new music." You can see why so many country singers still want to make country radio more inclusive of women. "Even when I was growing up, I wished there [were] more women on the radio, and I had a lot more than they are today," Carrie Underwood said earlier this year. "Think about all of the little girls that are sitting at home saying 'I want to be a country music singer... What do you tell them? How do you look at them and say, 'Well, just work hard, sweetie, and you can do it,' when that's probably not the case right now?"