It's common knowledge that MTV's name hasn't had anything to do with its content in years, but there's still something that ties the network's early music video blocks to TRL and Teen Mom: Its relentless pursuit of teen viewers. To keep up with their fickle tastes, MTV has to keep revamping itself every few years. Recently, the network underwent one of these shifts, but you might not have noticed. MTV executives are patting themselves on the back for finally wooing millennials, and say the changes actually go far beyond simply replacing shows about rich kids making irresponsible choices with programs about poor kids making irresponsible choices.
The L.A. Times reports that in fall of 2008, the network found itself out of touch with the times. Though the recession was setting in, it still featured shows like My Super Sweet 16 and The Hills. Stephen Friedman, MTV's president, explains, "We needed a total reinvention, a complete overhaul." Their solution was to stop focusing on programs meant to appeal to Generation X, and concentrate on the younger half of their 12-to-34 year old target demographic. "We needed to let go of Generation X so we could own the millennials," says Friedman.
While one might think that entertaining shows span the divide between people born before of after 1980, through extensive market research (including meetings with real life scrappy young people), MTV determined that unlike Generation X, millenials are uninterested in snark. Instead, they're searching for authenticity. Carol Phillips of the consulting firm Brand Amplitude says, "About the biggest put-down in the millennial world is to call someone fake ... They want to see experiences that feel real."
The Times cites The Hills "sun-drenched escapism" as the reason the show didn't fit the new format, but that's just a delicate way of saying everything about the so-called "reality" show was obviously fake. Its replacements, 16 and Pregnant, Teen Mom, and Jersey Shore, have some of the same inauthentic quirks, most notably how it's never acknowledged that the cast members are on a successful TV show that catapulted them to D-list stardom. Yet, according to the paper, Jersey Shore found success with millenials because its "gritty" and "partly a story about the search for love and acceptance - eternal themes for youth." We thought the audience was just attracted to the booze-fueled drama and goofy catchphrases, but we're getting pretty close to 30 and cannot possibly understand MTV's 12-year-old viewers.
This season the network is rolling out several scripted programs targeting millennials, including shows about relationships among 20-somethings in Brooklyn and underemployed recent college grads. These shows, along with the networks' reality shows, are meant to showcase what Shore calls "radical audience intimacy." The concept mirrors teens' williness to post the intimate and embarassing details of their lives on the internet. Perhaps Lauren Conrad is regretting not flashing her coo-ca and neglecting a child to stay relevant to MTV audiences. Or maybe not.
G/O Media may get a commission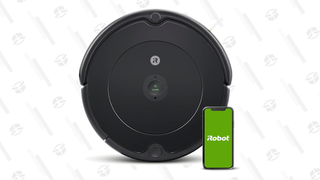 35% Off Black Friday Deal
iRobot Roomba 694 Robot Vacuum