MSNBC is undergoing a very public and extremely ungraceful makeover, cutting ties with Melissa Harris-Perry, who accused the network of sidelining her. Now MSNBC is also canceling a planned weekend show for Alex Wagner, who is Burmese-American, and jiggling around the schedules of a number of other non-white hosts and contributors. Smart, guys.
CNN Money reports that Wagner's new planned show is not happening; it was announced back in October as part of essentially a switch with Steve Kornacki, which CNN called "part of MSNBC's effort to shed its reputation as a liberal platform and rebrand as a nonpartisan news channel—at least in daytime." Wagner's previous show, Now With Alex Wagner, was cancelled over the summer in a series of scheduling changes.
As Politico pointed out, José Díaz-Balart also hasn't appeared in his usual time slot recently, and isn't on the scheduled list of hosts for the networks coverage of the upcoming Florida presidential primary, despite the fact that he's based in Miami. And the Washington Post was given a list from someone close to Harris-Perry of all the other non-white contributors and panelists who are suddenly either gone or have had their airtime noticeably diminshed:
People close to Harris-Perry compiled a list of names of those with minority backgrounds who've been dismissed or assigned to lesser roles in the past year. The list includes program hosts such as Al Sharpton, Alex Wagner and Joy Reid, and African American contributors and pundits such as Michael Eric Dyson , Touré , Karen Finney and Goldie Taylor. Three other African Americans who have appeared as panelists and pundits — Janet Mock, Dorian Warren and the Rev. Jacqui Lewis — now mostly appear on Shift by MSNBC, the network's little-viewed digital channel.
At the same time, Ted Cruz's fired campaign spokesman Rick Tyler was hastily hired for a job as a "political contributor" the same week he got canned for lying about Marco Rubio.
On Sunday, director Ava Duvernay tweeted at MSNBC, asking if they'd bumped an interview she did from Flint, Michigan because she spoke supportively of Melissa Harris-Perry during it:
G/O Media may get a commission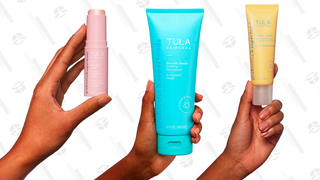 The interview, with anchor Joy Reid, ultimately aired later that night.
---
Contact the author at anna.merlan@jezebel.com.
Public PGP key
PGP fingerprint: 67B5 5767 9D6F 652E 8EFD 76F5 3CF0 DAF2 79E5 1FB6
Alex Wagner. Screengrab via YouTube/Washington Free Beacon