A Newark mother has been arrested and ordered to never contact her infant son after several bad decisions culminating in a Facebook announcement that she was planning on selling him. Her reason? She didn't want to have another kid, because she wanted to go to Disney World. Most fucked up Disney-related maternal absence ever?
The woman, 33 year old mother-of-three Bridget Wismer, gave birth to an infant son on August 31. Shortly thereafter, she attempted to sell him to a 54 year old Philadelphia bookie named John Gavaghan, who agreed to list himself as the child's father on the birth certificate even though he and Wismer had never had sex (Gavaghan is gay and lives with his long-time partner). Police became aware of the arrangement when Wismer's grandmother told authorities that she was planning on selling the baby so that she could go kick it with Mickey Mouse and company.
Wismer's infant son was born addicted to opiates and had to remain in the hospital for some time after his mother's discharge. Additionally, court documents state that on September 4, while he was still in the hospital, she spent the day in a Philadelphia casino while the baby's would-be buyer/fauxther stayed with the infant.
Wismer said that this is all a big misunderstanding. Of Gavaghan, she says,
"He was going to raise the baby and give the baby a life that I couldn't give because of my situation," Wismer said. "He was just looking out for me and the baby. We both just love this baby so much."
G/O Media may get a commission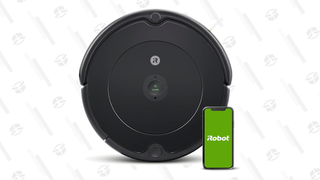 35% Off Black Friday Deal
iRobot Roomba 694 Robot Vacuum
Authorities aren't buying that story and have arrested both, charging them with dealing in children and conspiracy. The charges carry a maximum sentence of 7 years' imprisonment. Both Wismer and Gavaghan have been ordered to never contact the child.
The baby's currently in foster care.
Police: Mom posted plans to sell son on Facebook [DelawareOnline]
Cops: Woman tried to sell baby for trip to Disney World [Palm Beach Post]
Image via FotoShoK/Shutterstock