Buckle up, this is a weird one: an Oregon psychic and her daughter are both facing jail time for a decade-long scheme in which they conned the elderly heir to a tree farm fortune out of millions of dollars. Among other things, they managed to convinced Ralph Raines Jr. that he had fathered a son named "Giorgio Armani" who needed to be provided for.
Raines, now 67, is the sole heir to the Raines Tree Farm, a company worth millions, and which had been in his family for three generations. He was also, as this excellent Willamette Week feature lays out, a very lonely man. His mother Helen passed away in 1992; he and his father, Ralph Sr., lived on the tree farm alone until the older man died in 2011. Raines Jr. was a bit awkward, and seemingly resigned to spending his life alone.
That is, until around 2007 or 2008, when he met a woman calling herself "Mary Marks," a thin, heavily made-up blonde with a British accent. Raines told investigators he fell in love with Marks, who convinced him after a time that they were married. She told him she wanted to have his child through artificial insemination, then disappeared to California for a time to "have the baby." When she returned, she introduced him to a baby boy, "Giorgio Armani," who called Raines "daddy."
What Raines didn't know is that Marks was really Porsha Lee, and that he had already met her and her mother, Rachel; indeed, that they'd been living at his farm for years.
Rachel Lee had been taking care of Raines Sr. since 2004, when she and Jr. met at a conference of tree farm owners. When Raines Sr. suffered a stroke in 2006, Rachel moved onto the property full-time to take care of him, bringing along her daughter and, at times, her boyfriend, Blancey Lee.
G/O Media may get a commission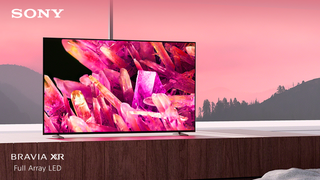 $400 off
Sony 55 Inch 4K Ultra HD TV X90K Series
"Almost immediately," according to the Oregonian, "she secured access to Raines Jr.'s bank accounts to cover expenses. That soon extended to control over two company accounts for the Raines Tree Farm." Rachel never revealed that she had little work experience as a caretaker, a bookkeeper or much of anything else: she ran a psychic storefront in Bend, Oregon.
Over the next few years, prosecutors say, Rachel began gradually taking control of all of Raines' finances. But the scam wasn't complete until she had her daughter Porsha don a blonde wig and heavy makeup to pretend to be Mary Marks. Another of Rachel's daughters, Samantha Lee — who also goes by "Pebbles" — allowed her son to be passed off as "Giorgio Armani." Porsha has three children of her own, all under five years of age; it's unclear who they were living with while the scam was being undertaken, or how she managed to conceal her pregnancies from Raines, who she was in a "relationship" with when at least two of them were born. At one point, Porsha told Raines they were expecting a child together, to be born in December 2012, but later told him the baby had died before birth.
In this way, according to court filings, the Lees managed to take control of nearly all of Raines' money, eventually selling off much of the tree farm's acreage. They are believed to have taken between $12 million and $20 million from Raines in total. They spent the money on fancy hotels in Las Vegas, two Ferraris with the license plates "MRBIG" and "MRBIG1," a vintage Chevy convertible, several properties and shopping sprees in Beverly Hills. At the time, Raines was living in one of his last remaining properties, a run-down A-frame cabin near Gaston, Oregon. The Lees were arrested in May 2014 at Rachel's psychic shop in Bend; investigators suspect they were trying to leave the area with Raines. Porsha had $36,000 on her at the time of her arrest.
Rachel Lee pleaded guilty in October and is awaiting sentencing. Yesterday, Porsha Lee also pleaded guilty to conspiracy to commit wire fraud. She faces up to 20 years in prison; however, prosecutors have asked the court for a two to three year sentence, followed by three years of supervised release. Rachel's other daughter Samantha and her boyfriend Blancey have also been charged.
It's unclear if Raines suffers from dementia or any other mental health difficulties that might have made him more vulnerable to being scammed. According to Willamette reporter Kate Willson, "His attorney, Hall, will only say Raines was convinced of her story by his desire for a family of his own, and by the extremes the Lees took to make the story seem real." His million dollar fortune has been reduced to around $200,000. To this day, his lawyer told the court, he believes he has a wife named Mary Marks and a son named Giorgio Armani, who are out there somewhere.
Rachel Lee, left, and Porsha Lee. Image via Multonah County Sheriff's Office