Brittany Maynard ended her life in 2014, when she was just 29 years old and suffering from terminal brain cancer. Before her death, Maynard had become a vocal advocate for assisted suicide and a flashpoint for the ongoing culture war over more broadly legalizing it. Now, her widower and her mother are engaged in a very regrettable, seemingly intractable battle over who has the right to tell her life story.
Maynard's mother Deborah Ziegler is promoting a new book about her daughter's life and death, Wild and Precious Life. She did an interview with Katie Couric late last week and Today ran an excerpt of the book, as did Good Housekeeping. But Maynard's husband Dan Diaz says Ziegler didn't have permission to write about Maynard's life, and that his late wife was in fact dead-set against it.
On October 14, Diaz released a statement on Facebook, saying Maynard gave him sole permission to decide how to tell her life story:
Brittany made me promise her that I would handle her affairs in the matter that she prescribed. With all of the media attention surrounding her story, Brittany was concerned that her name or likeness would be used in a way that was contrary to her wishes. She went to great lengths to protect her story, ensuring that it would be told truthfully and prevent it from being misrepresented.

Brittany had an attorney come to the house we rented in Portland, Oregon, during the last week of her life to create her Will and communicate how she wanted her story handled. The contents of Brittany's Will includes: 'I, Brittany Maynard, name my spouse as my personal representative. I give the right to my story, name, likeness, image and personality to my spouse.'
He also writes that Maynard specifically worried her mother would write something contrary to her wishes. Diaz says Wild and Precious Life does contain inaccuracies, and released a statement he says Maynard prepared before her death "if this situation were to arise:"
Brittany made me promise that I would safeguard her story and that I would write this very post if this situation were to arise. Therefore, I am now communicating Brittany's statement:

"I love my mother very much, but I don't want her to be a storyteller about me. She's been a great mom and I wouldn't be here without her but I don't want her to write about me. It is not her place to do so." Brittany prophetically warned, "…my mother might be the biggest problem regarding protecting my story."

The book that her mother, Deborah Ziegler, decided to write against Brittany's instructions, Wild and Precious Life, does not appropriately tell the story of Brittany Maynard. In particular, the scenes from the last 10 months of Brittany's life obviously reflect Deborah's own opinions, concerns, and thoughts. Deborah's book does not speak for Brittany and there are numerous passages that are inaccurate.
G/O Media may get a commission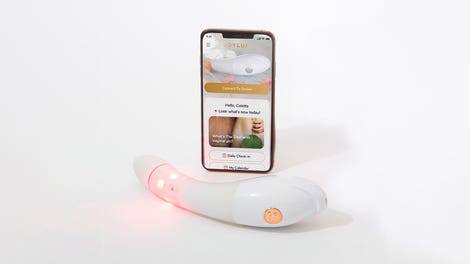 $50 Off
Joylux vFit Gold Device
Diaz also wrote that he is cooperating with a planned film about Maynard's life. He added that his intention wasn't to create "angst or division:"
The purpose of this post is simply to convey Brittany's instructions; it is not to create angst or division. Kindness and Love are what we need more of in this world. So please save the harsh or mean-spirited comments. The purpose of this post is to relay the information that Brittany required of me; that she did not support her mother writing a book and feared the contents would be inaccurate.
In March of last year, Ziegler and Diaz had traveled to Sacramento together to advocate for a death with dignity bill to be passed in California, releasing a video statement together and speaking to the media. Governor Jerry Brown signed the bill into law at the end of 2015, and the End of Life Option Act was enacted on June 9.
Ziegler hasn't publicly responded to Diaz's statement. Neither has Compassion and Choices, the death with dignity organization that supported Maynard after her diagnosis. We've contacted both of them for comment and will update if we hear back.