The age-old question of whether women prefer their snatch to be perfectly groomed continues to be a source of intrigue among researchers. The latest study suggests most women, particularly those with access to such luxuries as regular waxes, like to go hairless.
Bald pubes. Or, as The New York Times so elegantly phrases it, "female genitalia, bereft of hair." Describing the idea of waxing as if it's foreign, NYT writes: "Sometimes called 'grooming,' the practice of shearing off pubic hair — parodied on Saturday Night Live, celebrated as a girl-bonding ritual by various 'Real Housewives' — has prompted sexual health experts to ask what motivates women to do it." In short, like, why do u wax ur pubes?
An informative study published today in the journal JAMA Dermatology surveyed a sample group of 3,316 women (age 18 to 65) and found that 62.1% of them prefer to have no pubic hair and many (59%) do it for pure hygiene reasons, whether through waxing, shaving or other means.
The study's findings conclude:
In a nationally representative sample, U.S. women are more likely to groom their pubic hair if they are younger, white, and more educated. They also groom if their partner prefers them to do so without being based on actual sexual practices.
Women in the United States increasingly are grooming their pubic hair for cosmetic purposes, but this trend appears to occur within specific demographic groups of women.
G/O Media may get a commission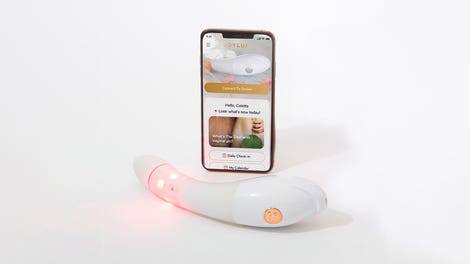 $50 Off
Joylux vFit Gold Device
Indeed, the feeling of a smooth vaginal region is unmatched but, oftentimes, a luxury. Notably, 22.4% of the women surveyed also prefer their anal hair removed even though most don't end up doing much anal play. The study says "only 10.0% engaged in any anal-related sexual activity in the prior year."
While the motivations for pubic grooming varied, most women reported doing it for the visuals:
A total of 875 (31.5%) reported grooming because they believe it makes their genitals more attractive, and 586 (21.1%) reported grooming because of partner preference. When asked about situations for which they groom, women reported sex as the most common reason (1544 [55.6%]) but also vacation (1270 [45.7%]) and health care professional visit (1111 [40.0%]).
Yes, 40% of women find it crucial to tidy up the vag before gyno appointments.
The study also revealed:
83.8% reported a lifetime history of pubic hair grooming


16.2% reported no grooming history

4.8% reported performing daily grooming

92.8% reported that they performed their own grooming
A large portion of women (in the 70% percent range) groom above and/or around the vagina. Other illuminating results show that women who landscape their 'talia tend to be younger and white, with higher education and more money. Vehement pube groomers also have more sex.
The grooming habits of girls under the age of 18 were not reported in the study, though according to NYT:
Anecdotally, gynecologists say they are seeing girls as young as 13 take up grooming, when they have only recently come into puberty. The teenagers, doctors said, are influenced by locker room jeers, social media chatter, and even internet pornography, where female genitalia is often displayed as hairless and almost prepubescent.

"At least once a week I hear from a young woman that she thinks it's wrong to have pubic hair, that it's meant to be removed," said Dr. Jennifer Gunter, who specializes in pelvic pain and vulvovaginal disorders for Kaiser Permanente Northern California. "Grooming has become so common that people think that's the norm."
To boot, doctors have long been concerned with the poor health effects of regular grooming; NYT cites a study that says "3 percent of ER visits for genitourinary trauma are a result of grooming."
---
Image via Shutterstock