Rives Miller Grogan is an adult man who likes to clamber for attention by clutching dolls while screaming at groups of people and climbing trees to avoid confrontation. Surprise: he's an anti-abortion activist! Now, he's officially banned from the District of Columbia after scurrying up a 40-foot tree on Inauguration Day so he could yell at Obama from above without the cops getting involved.
Grogan has been convicted five times in the District since 2009, according to the Washington Post. He's usually fined and given probation or suspended sentences for short jail sentences after infractions such as pacing the Capitol steps holding a bible and shouting, "Stop killing the babies," disrupting Senate proceedings, or ranting while clutching a doll — you know, the usual — but police are finally sick of his shit after his Inauguration Day antics. The Washington Post reports:
Police said that they tried to talk Grogan out of the tree before Monday's ceremony began, and then turned to the fire department for a ladder. The fire department's truck couldn't fit through the security barricades, and Grogan climbed higher when police brought their own ladder.

Officer Shennell S. Antrobus, a U.S. Capitol Police spokesman, said officials decided to leave Grogan in the tree until after the swearing in to avoid disruptions. Police said he came down on his own after five hours.

Antrobus said Grogan had a green ticket to the inauguration, which required him to be screened before entering the area near the president.
(According to the New York Observer, he quieted down during Beyoncé's national performance. Anti-abortion crazies: they're just like us!)
Police charged Grogan with violating a previous order to stay away from the area and with violating laws that require local authorities to "preserve the peace and secure the Capitol from defacement," and with "preventing any portion of the Capitol Grounds and terraces to used as playgrounds ... to protect the public property, turf and grass from destruction." He'll be allowed to return to D.C. for a hearing on Feb. 25th but then, if all goes as planned, he'll have to diversify his harassment techniques. We're sure he'll come up with something.
G/O Media may get a commission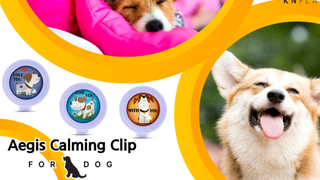 20% off
Aegis Calming Clip for Dogs
At least his mother is a fan; she told the Washington Post that "God will judge all of this one day, not the courts." We're pretty sure God, wherever or whomever he/she/it may be, would tell him to shut the fuck up so he/she/it could get some work done, too.
(Image via Twitter)