Highly public marriage proposals have become a matter of global nuisance, but none more so than one which greatly inconveniences innocent bystanders. From Istanbul comes the great news of one such event.
The Turkish paper Hurriyet reports that a man — let's call him Asshole — recently caused a massive traffic jam on Istanbul's D-100 highway, all in the name of luv. Asshole, along with six of his friends, formed a seven car convoy that stopped in the middle of the highway, right where Asshole's beloved happened to be driving. Once traffic was brought to a complete standstill, Asshole jumped out of his vehicle, ran over to his lady's car, and dragged her out into the middle of the highway, at which point he dropped down to one knee and proposed marriage. And as the music — an orchestra of car horns played by dozens (hundreds?) of annoyed drivers — swelled, she said yes.
Romantic! You know who didn't say "aw" at the sight of this grand gesture? Every single driver stuck in that massive traffic jam. Asshole and his friends also used flares, which are a particularly nice touch and no doubt unsettled those drivers stuck 30 cars back, who couldn't see what exactly was going on and probably thought there was some sort of horrible accident ahead. At least they were right about the horrible part.
Of course, the whole thing was caught on a cell phone camera, for what good is a man's efforts if he cannot show his spectacle to the world as proof of his singular awesomeness?
Authorities did not find the gesture quite so impressive. After the footage was posted online, officers hunted down Asshole and his bros and arrested all seven of them; they've since referred the case to a local court. The men's licenses were also confiscated until Asshole & Co. were deemed "mentally healthy." Oh, are they? I'd love to see the criteria for such a pronouncement.
G/O Media may get a commission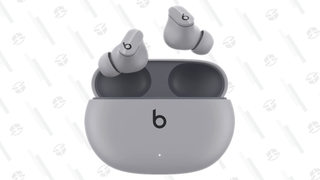 ---
Contact the author at jessica@jezebel.com.

Image via YouTube.