A Moroccan state television channel has ignited protest for broadcasting a makeup tutorial on how to conceal injuries from domestic abuse.
According to the Independent, Channel 2M ran a cheery program that directed women in hiding bruises with meticulous makeup application. The model appears to have two black eyes and swollen cheeks — ostensibly these are imitations applied so that the show's host can demonstrate how to mask them.
"Make sure to use loose powder to fix the makeup, so if you have to work throughout the day, the bruises don't show," the makeup artist advises.
She proceeds to recommend the most effective brands of concealer and foundation — ones heavy enough to hide swelling and bruising.
"We hope these beauty tips will help you carry on with your daily life," she concludes.
G/O Media may get a commission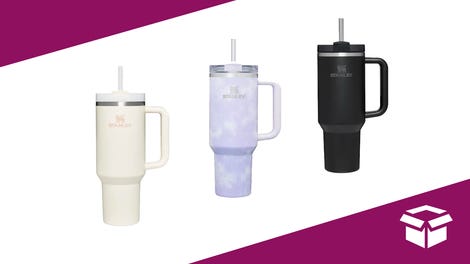 Up to 45% off
Stanley Cup Sale
As it happens, the program ran simultaneously with the International Day for the Elimination of Violence Against Women. But regardless of this coincidence, a beauty tutorial designed for women who have been beaten normalizes domestic abuse in the most pernicious way. It moreover trivializes domestic violence as an aesthetic inconvenience that can be managed easily, rather than an epidemic endangering the lives of millions of women and men.
Hundreds of Moroccan women have signed a petition censuring this broadcast and its "standardization of violence against women":

"As Moroccan women and as feminist activists in Morocco, and in the name of all Moroccan people, we denounce the message of normalization with violence against women...We demand severe sanctions against this show, Sabahiyat, and the channel 2M.

...

The violence should not be covered by makeup, and the aggressors have to be condemned."
In the wake of the complaints, 2M removed the tutorial from its website and composed a "clarification" for its website, stating that the clip was "completely inappropriate and has an editorial error of judgment in view of sensitivity and the gravity of the subject of violence against women."
However, activists did not interpret this apology as especially sincere. They also remarked that not all women who experience domestic abuse are able to read. 2M then produced a live broadcast in order to deliver the apology more effectively.
The Human Rights Watch has addressed the Moroccan government on the matter of domestic violence, emphasizing that the country's laws do not clearly delineate ways to punish abusers or implement preventative measures. Likewise, survivors are not met with the support they require.
The impact of the government's inaction is all too evident. In 2009, women between the ages of 18 and 65 were surveyed by the Moroccan High Commission for Planning. They learned that 62.8 percent—roughly two-thirds—had endured "physical, psychological, sexual, or economic violence." Of the 55 percent who had experienced "conjugal" violence, only three percent had reported it to authorities.