On Wednesday night, Super Size Me director Morgan Spurlock shared a post on his Twitter account admitting to past sexual harassment and detailing an encounter after which he was accused of rape. The post, entitled "I Am Part of the Problem," begins with something I'm sure plenty of men can relate to:

As I sit around watching hero after hero, man after man, fall at the realization of their past indiscretions, I don't sit by and wonder "who will be next?" I wonder, "when will they come for me?"
Chilling, isn't it?
Spurlock goes on to admit that he sexually harassed a coworker eight years ago ("...It wasn't a gropy feely harassment. It was verbal, and it was just as bad."), cheated on "every wife and girlfriend" he's ever had, and that a college classmate once accused him of rape.
Spurlock writes:
When I was in college, a girl who I hooked up with on a one night stand accused me of rape. Not outright. There were no charges or investigations, but she wrote about the instance in a short story writing class and called me by name. A female friend who was in the class told be about it afterwards.

I was floored.

"That's not what happened!" I told her. This wasn't how I remembered it at all. In my mind, we'd been drinking all night and went back to my room. We began fooling around, she pushed me off, then we laid in the bed and talked and laughed some more, and then began fooling around again. We took off our clothes. She said she didn't want to have sex, so we laid together, and talked, and kissed, and laughed, and then we started having sex.

"Light Bright," she said.

"What?"

"Light bright. That kids toy, that's all I can see and think about," she said … and then she started to cry. I didn't know what to do. We stopped having sex and I rolled beside her. I tried to comfort her. To make her feel better. I thought I was doing ok, I believed she was feeling better. She believed she was raped.

That's why I'm part of the problem.
Another reason Spurlock is part of the problem—you know, apart from the harassment and mistreatment and [alleged] assault—is that he's now retweeting compliments from Twitter users praising him for for speaking out.
G/O Media may get a commission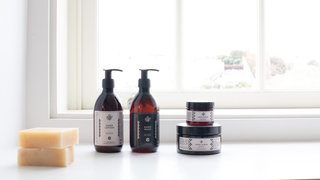 Exfoliate and Hydrate
The Handmade Soap Company
He's not "brave," he's an asshole!
[Twitter]
---
In related news, talk show host Tavis Smiley has been suspended by PBS after multiple allegations of sexual misconduct. Reports Variety:
[An] investigation found credible allegations that Smiley had engaged in sexual relationships with multiple subordinates, sources said. Some witnesses interviewed expressed concern that their employment status was linked to the status of a sexual relationship with Smiley.
Smiley responded to the allegations on his Facebook page, writing:
If having a consensual relationship with a colleague years ago is the stuff that leads to this kind of public humiliation and personal destruction, heaven help us...Put simply, PBS overreacted and conducted a biased and sloppy investigation, which led to a rush to judgment, and trampling on a reputation that I have spent an entire lifetime trying to establish.

This has gone too far. And, I, for one, intend to fight back.

It's time for a real conversation in America, so men and women know how to engage in the workplace. I look forward to actively participating in that conversation.
I look forward to nearly anything else.
---
And now, something nice: a photo of J.Lo looking adoringly at her Christmas tree, taken from her Instagram story.

---