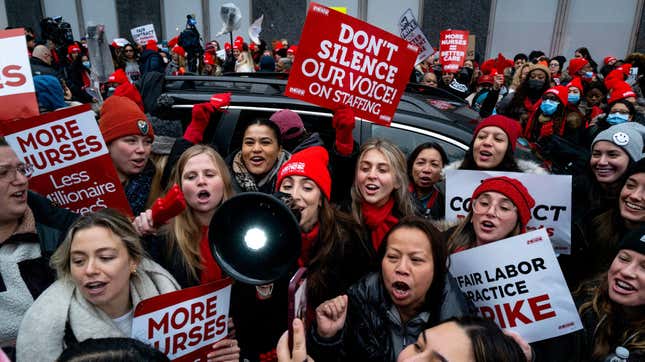 Rachel, a young Mount Sinai nurse, is unmissable on New York City's Madison Avenue amid a growing mass of protesters, thanks to a blood red New York State Nurses Association knit cap. For the last two years, Rachel has gone to work at the nationally ranked hospital; as of today though, she's on strike, which means, for the foreseeable future, she'll be without pay, benefits, and the patients she's come to know. But to her and scores of fellow nurses at Mount Sinai and Montefiore Medical Center, it's worth it.
America's Favorite Pasttime: Dunking On Dr. Oz
"The nurse to patient ratio was just truly unsafe," Rachel told Jezebel. "The federal and standard guidelines for nurse-to-patient ratio is usually about four to five on a regular unit. Right now, we're seeing eight to nine. We're spread really thin, and there's just not enough of us to go around to deliver safe patient care."
The phrase "people over profits" has been chanted countless times in the last year alone, as thousands of Americans (including Jezebel staffers) have found purchase (and in many cases, higher pay, better benefits, and safer conditions) on the picket line. But today, this earmark of resistance can be heard—clear as a bell—spanning several blocks.
By 6 a.m. Monday morning, over 7,000 nurses across New York City had walked off the job and begun picketing. While seven of 12 city hospitals arrived at tentative agreements over the weekend, Mount Sinai and Montefiore Medical Center have yet to reach a deal. Now, at four locations in the Bronx and East Harlem, nurses and labor advocates, activists, and allies have gathered to rail against staffing shortages and low wages they say have dangerously impacted patient care.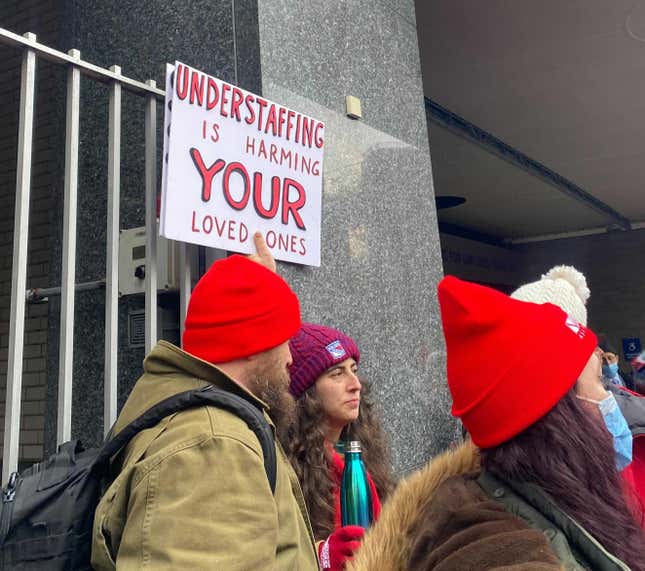 In a press conference on Sunday, the New York State Nurses Association (NYSNA) told reporters that Mount Sinai agreed to return to the bargaining table on Sunday, after walking away shortly after midnight on Thursday and calling off negotiations for Friday. "After bargaining late into the night at Montefiore and Mount Sinai Hospital yesterday, no tentative agreements were reached," NYSNA said in a statement on Monday morning. "Today, more than 7,000 nurses at two hospitals are on strike for fair contracts that improve patient care."
Though covid-19 worsened the issue and, along with low wages, has led to burnout, many nurses assert staffing shortages predated the pandemic. Shannon, another Mount Sinai nurse, who joined the strike from her shift, told me that she and her colleagues have grown disturbingly used to overextending themselves. "Short staffing has been a thing since before covid-19, sure. But it's gotten worse," she said. "I feel like honestly, we're almost accustomed to the staffing. We do make it work, and that's why the hospital allows it to happen. I think they're profiting off us working short."
"We're already one of the lowest paid in the city, and we have the most vacancies, like over 500," Shannon said. "Obviously, because people are leaving and they can't pay enough. They [Mount Sinai] get a lot of people in the door, but they can't keep them." Shannon told Jezebel that on her last shift before the strike, she was expected to float to other floors to compensate for the short staffing.
Bianca, a neonatal intensive care unit (NICU) nurse, doesn't have this problem. "We're too busy," she said.
"People get floated to us," echoed Catherine, another NICU nurse.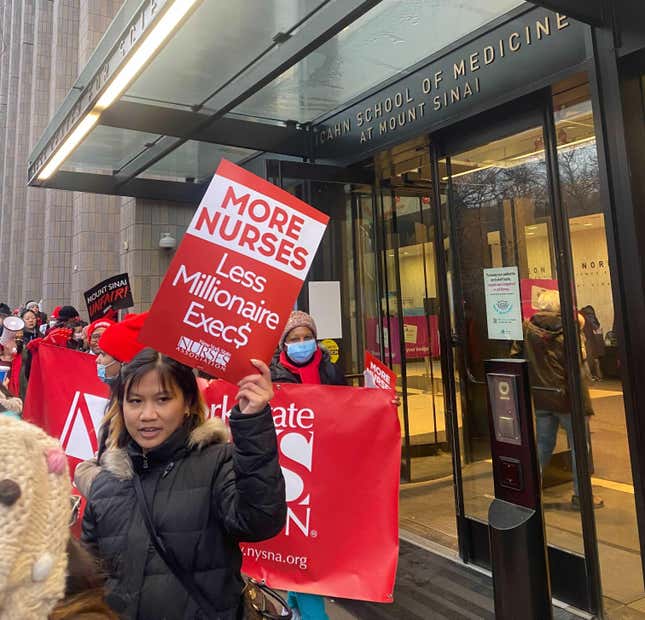 "We get up to like three or four babies at a time, so it's extremely difficult for us to deliver the best care possible when we have three to four babies that we're taking care of," Bianca said. "Realistically, every baby should have their own nurse."

"I've worked here for 31 years and I never thought we would get to this," Catherine said. "I just feel they [Mount Sinai] don't care enough. They pay lip service, but it's nothing. We're all worn down, and those in my position and at my age, we're thinking, 'Well, what's the point of this?' We'd actually be better off retiring."
Preparations for a potential strike reportedly began 10 days ago. Mount Sinai and Montefiore began transferring patients, postponed elective surgeries, diverted ambulances, and are currently relying on "traveling" nurses. The NYSNA has repeatedly encouraged those in need of care to seek it during the walkout.
The striking nurses have allies in politicians like Attorney General Letitia James and in the New York state AFL-CIO, both of whom spoke at a press conference at noon on Monday.

"Their hearts are in this," James told the crowd. "This is not about money."
Rep. Jamaal Bowman (D-N.Y.), too, has voiced support for the strikers. "Nurses have been through hell and back for their patients," Bowman said in a statement. "They already fought unimaginable fights to keep us healthy and alive, and they shouldn't have to keep fighting. I stand with NYSNA nurses as they fight for fair workplace conditions."
Mount Sinai, however, has claimed those on strike are acting with abandon. "Mount Sinai is dismayed by NYSNA's reckless actions," they said in a statement on Friday. "The union is jeopardizing patients' care, and it's forcing valued Mount Sinai nurses to choose between their dedication to patient care and their own livelihoods."

"I think I speak for all of us when I say we want to be there with the babies, Caroline, another NICU nurse told me. "We want to be taking care of them. We love them. We've grown connections with them and their families. But we're doing this for them."
"Starting at 6 a.m. this morning, we don't have any benefits. We're not getting paid. People know the risks they're taking by doing this, and that's why this is unprecedented. This is history," Rachel said. "We're going to continue to stand up for what's right, and that's our patients."