In Nigeria, 8-11 more girls have been kidnapped, possibly by the Islamist terrorist group Boko Haram, depending on conflicting reports. And as the international community grows more active with social media pressure and Senatorial letters to President Obama, the shame surrounding the Nigerian government seems to grow. It couldn't be worse timing for President Goodluck Jonathan.
This week, the country is hosting the World Economic Forum, a large international financial conference, with moneyed business leaders descending upon the city of Abuja to discuss collaborating with a "new Nigeria." Except as their limos and hired cars roll through the city, they're flanked by protesters demonstrating with signs reading "Bring Back Our Girls," a reminder of the African hub's terrorist troubles. It's an awkward juxtaposition, and Boko Haram is cementing their presence by swiping another gaggle of girls from the villages of Warabe and Wala just yesterday. Like the original muddled reports of the 276* abducted girls from Chibok, local officials denied the children were taken, according the New York Times.
Another local official confirmed the new abductions, though the area's top police official, Lawan Tanko denied they had taken place. "By our record it's not true," he said in an interview from Maiduguri, the capital of Borno State.
However, a local official named Hamba Tada says militants descended on the villages with AK-47s slung over their shoulders as they packed the girls into an 18-seater bus and stole livestock and grain too. Unicef says this is Boko Haram's modus operandi, take the girls to prevent them from learning at school, like those in Chibok, because the group is against Western education.
Following earlier reports of terrorist leader Abubakar Shekau claiming responsibility for the Chibok abduction, he released a nearly hour long video, below, in which he decries western education in favor of marriage.
"Just because I took girls in Western school they are worried. I say they (the girls) should desert the school. They should go and marry. Stupid people. Talking about human rights and democracy. Nonsense. People that are doing same sex marriage and saying they are leaders."
G/O Media may get a commission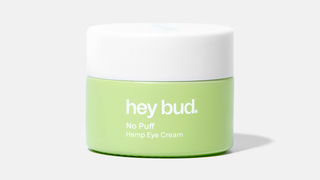 15% off
Hey Bud - No Puff Hemp Eye Cream
New York Magazine compiled a run-down of Shekau and his organization which has been in play since 2002, according to the BBC. Here are the high points:
Shekau, believed to be between mid-30s and mid-40s, is more violent than his Boko Haram predecessor Mohammed Yusuf, who initially formed the group. It was originally called "Jama'atu Ahlis Sunna Lidda'awati wal-Jihad," or "People Committed to the Propagation of the Prophet's Teachings and Jihad" but shortened to Boko Haram.
In 2009, Yusuf was arrested in a government attempt to quash the group. He was later found dead. Martin Ewi, a researcher from the Institute of Security Studies, thinks during the firefight Shekau was almost killed, which made him all the more brutal.
"Imagine coming back from the dead. He knows he doesn't have a second chance if he's caught by the security forces," says Ewi. "He was in the mouth of the crocodile, now he's coming back to kill the crocodile."
Boko Haram aims to imitate Al Qaeda, though they haven't been tied to the late Osama bin Laden's group formally. But judging from their "decentralized splinter groups" and propensity for public videos chats, Shekau takes his cues from bin Laden's legacy.
In the video above, a translation states that Shekau is focused on stealing and deprogramming children as a tool of war against non-Islamist groups.
"It is Allah that instructed us," Shekau said in yesterday's statement, "until we soak the ground of Nigeria with Christian blood and so-called Muslims contradicting Islam. After we have killed, killed, killed, and get fatigued and wonder what to do with smelling of their corpses — smelling of Obama, Bush and [Nigerian president Goodluck Jonathan] — then we will open prison and imprison the rest. Infidels have no value."
*The number of missing girls from Chibok varies based on source. The AP currently puts it at 276.
Photo Credit: AP Images.