It's not really news that Alcoholics' Anonymous isn't necessarily tailor-made for women with drinking problems, but a new study into the ways AA helps both sexes recover from addiction suggests that the organization isn't quite as effective in treating female addiction as it is treating male addiction.
According to Scientific American, John Kelly, a psychiatrist at Massachusetts General Hospital, and his colleague Bettina Hoeppner collected data over 15 months from 1,726 AA members about their social networks, their drinking habits, and how confident they were that they could remain sober. They found — surprise! — some differences between the relapse triggers for male and female alcoholics, differences that AA generally doesn't account for:
[Kelly and Hoeppner] found that male alcoholics typically relapse when they are in social-drinking situations and that AA largely helps them stay sober by inducing them to spend time with nondrinking friends and by helping them cope when they do find themselves with friends who are drinking.

Female alcoholics, on the other hand, are more likely to drink when feeling down, yet AA does little to help them handle such emotion-driven cravings.
Nearly a third of all AA members are women, so, according to Kelly, it would behoove AA to more thoroughly map the gender disparities in alcohol addiction so that it can be a more effective program for its female members. And while the phrase "emotion-driven cravings" seems primed and ready to be lifted casually out of context and employed by all sorts of glib misogynists to craft specious, self-serving arguments about inherent differences between the sexes, Kelly and Hoeppner's findings back up those of Gabrielle Glaser, who has recently put forward the more thorough argument that AA's ego-taming approach to alcohol dependence might have worked great for men in 1935, but has little to offer many female alcoholics in 2013.
G/O Media may get a commission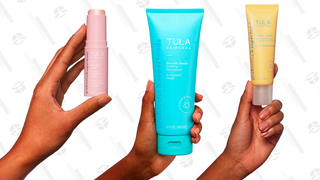 Male and Female Alcoholics Risk Relapse in Different Situations [Scientific American]
<small><em>Image via <a href="http://www.gettyimages.com/">Getty</a></em></small>