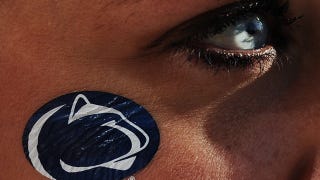 Another day, another horrifying dispatch in the case of former Penn State football assistant coach Jerry Sandusky. Two more young men have come forward to testify that abused them, bringing his total number of alleged victims to 10. All together now: Ugh.
The New York Times reports that the new charges were brought after grand jury testimony from two boys who alleged that Sandusky abused as he abused other victims. One victim was 11 or 12 when he met Sandusky through his Second Mile charity in 2004 and says the coach abused him for years after that. The other testified that Sandusky began abusing him in 1997, when he was only 10. Both allege that Sandusky raped them.
The new accusations have led to multiple new charges against Sandusky— four counts involuntary deviate sexual intercourse, two counts of unlawful contact with a minor, three third degree felonies and three first degree misdemeanors. The charges of deviate sexual intercourse and unlawful contact with a minor are both first degree felonies and could result in additional 20 years of possible prison time apiece.
Not that it would be any consolation to his victims.