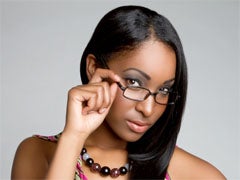 Excelle, Monster.com's newsletter for women, is full of useful tips and questions working women need to ask ourselves. Such as: "Do You Need A Makeover?" Take the quiz! It's online career advice, ladymag style.
It turns out the article linked has little or nothing to do with the display text — it's about a jobs site for attractive people that may or may not actually exist. Still, why miss an opportunity to play on women's insecurities, this instance and in the related stories? These include:
* The Power of a Polished Appearance
* Why Should I Care What I Look Like?
* Don't Let Your Wardrobe Kill Your Career
Similarly, the newsletter's approach to sexual harassment and workplace dating is equal parts hamfisted and sensationalist.
What can we learn from Monica Lewinsky? That twenty-two year-olds should probably not fellate the president, and that the president should definitely know better? Life lessons.
Excelle [Monster.com]
Image via Shutterstock/Jason Stitt