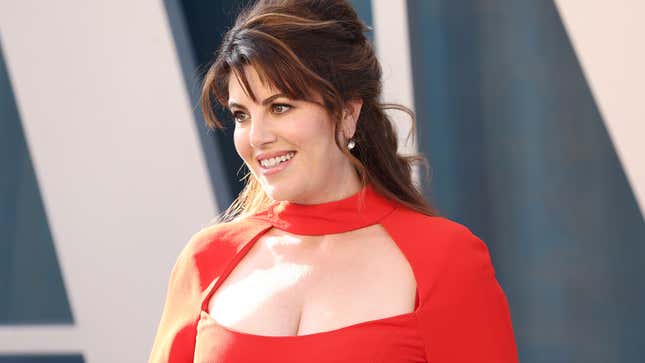 It's a silver anniversary like no other: Monica Lewinsky is...not celebrating, per se, but looking back on her 25 years in the public eye via a new essay (a listicle, really) for Vanity Fair, titled "Monica Lewinsky: 25 'Randoms' on the 25th Anniversary of the Bill Clinton Calamity."
"On January 21, 1998, the political maelstrom that eventually led to President Bill Clinton's impeachment began with a news-alert bow shock when it was revealed that he and I—during my tenure as a White House intern—had begun and maintained a long-running relationship," she writes in the intro, before getting into the "randoms" (read: bullet points of observations and wisdom gleaned from her extremely public ordeal and the aftermath). It was on that date that news of the relationship broke in the mainstream press via the Washington Post's story titled "Clinton Accused of Urging Aide to Lie." A few days prior, the Drudge Report posted that Newsweek magazined had recently "killed a story that was destined to shake official Washington to its foundation: A White House intern carried on a sexual affair with the President of the United States!"
Lewinsky's randoms range from cogent (No. 4: "The blame-the-woman mindset has thankfully receded over time through social conditioning. One prime example: What began in 1998 as 'the Lewinsky Scandal' or 'the Lewinsky Affair'...underwent a nomenclature upgrade as the years marched on") to frustratingly vague (No. 11: "As the years pass, one's taste in partners gets better. (Wink.)"). Some of her observations require more than a tweet's worth of content to stand on their own (No. 15: "The multiverse is real"); some have been already said to death (No. 3: "In 2023, we are (sadly) closer to the reality of Margaret Atwood's The Handmaid's Tale than we were when the book was published in 1985").
Lewinsky references her 2014 essay for Vanity Fair that got the wheels rolling on this current sage phase of her fame, in which she offers insight through the viewing of her Clinton affair via her specific perspective. This type of reassessing became only more visible during the #MeToo movement, which Lewinsky refers to as "a baseline, not an aberration" in her recent VF piece. Telling her story on her terms has become something of Lewinsky's brand—she co-produced the narrative adaptation of her scandal American Crime Story: Impeachment in 2021. This Lewinsky era is yet another product of accrued wisdom to hear her tell it. As she writes in random No. 18:
You cannot run away from your narrative. Perhaps the most challenging idea I had to come to accept was that there is no shedding or unshackling of the self that sprang from 1998 (and that made the behavioral decisions that landed me there). You can only try to integrate your previous selves with as much compassion as you can muster.