Clearly jealous of the increasingly popular "man cave," matriarchs are carving out a gender-specific home region of their own. They call it the "mom cave."
The AP wants to be clear: the mom cave is "different from the quintessential 'man cave,' where men do manly, messy and sporty things, often involving a recliner" (or some pheasants). A mom cave is for doing womanly things — like projects! And nurturing, but only of the auto- variety — explains Elaine Griffin, who just coincidentally has recently partnered with Homegoods to make mom-cave-type stuff, "A Mom Cave is where the woman who nurtures everyone goes to nurture herself." Wondering how to outfit your very own mom cave? Here are some things you could include:
— "an alpaca throw, down pillows, a fan, my favorite scented candle, and a whole bunch of stuff that I want to read"
— "a comfy wicker chair, a plush red rug, some pretty black and white curtains"
— bookcases. Says Griffin, "I love bookcases — you can hide in plain sight." You can hide especially well if you get the haunted-house kind that rotates to reveal a secret room.
— "my light bulb collection"
— books on caveman parenting
— International Delight coffee. Just eat the powder straight from the tin — it's your mom cave!
— seething resentment
— human skulls
G/O Media may get a commission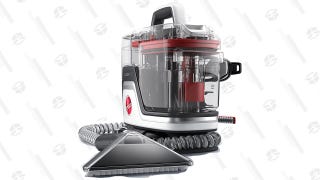 Save $10
Hoover CleanSlate Plus Carpet & Upholstery Cleaner
Of course, times are tough, and not everyone has a separate room in the house to devote to maternal spelunking. Says the AP, "Griffin suggests turning a stair landing into a mini-sanctuary using narrow console tables, a luxurious rug, and a couple of armchairs." A stair sanctuary sounds a little dangerous, though — you might not want to keep your light bulb collection there. Or your rollerskates.
Placement aside, we have only one problem with the mom cave concept — the name. After all, the word "cave" conjures up the primal, masculine impulses that inspire men to sit in recliners and watch football, as they have done since 10,000 B.C.. The mom cave needs a moniker that's a little softer, a little more feminine. A few suggestions:
— cozy corner
— nurture nook
— Activia alcove
— fluffy snuggly lady-place
— diva dungeon
— Seasonale
— vagina
Move over Man Cave: Women are making the 'Mom Cave' the place to relax at home [AP, via NY Post]
Image via Yuri Arcurs/Shutterstock.com