Garnett Paul Spears spent most of his short life with a feeding tube, battling a bewildering array of illnesses. He died in January at five years old, after his sodium levels mysteriously spiked and a series of seizures. And now the cops have arrested his mother, accusing her of poisoning the boy.
All the while, she was writing about Garnett's troubles on various social media platforms, so she's being billed as a "mommy blogger." Christ, it's like something Nancy Grace dreamed up on a company retreat at an opium den.
The cops have charged Lacey Spears with second-degree depraved murder and first-degree manslaughter, the Washington Post reports. "This mother was intentionally feeding her son salt in toxic levels," according to ADA Doreen Lloyd. Lloyd alleged that Spears injected her son with life-threatening doses of sodium through his feeding tube twice—at the start of his January troubles, and then again in the hospital.
According to local news reports, the cops suspect a case of Munchausen by proxy, fed by social media sympathy. Spears is being cast in the media as a "mommy blogger," but we're not talking about Dooce or Pinterest boards full of diaper cakes, here. According to Westchester's Journal News and their terrifyingly thorough deep-dive on the case, Spears posted regularly on MySpace, Facebook and Twitter about "Garnett the Great" and his various struggles, right up until the end of his life:
The next day began a downward spiral that would end his life, duly recorded on Facebook, in 28 posts over the next 11 days. In them, Garnett goes from being sick with the flu, to having seizures to being on — and off — a breathing tube.

On Jan. 19, Garnett was flown from Nyack Hospital to Westchester Medical Center, admitted to Maria Fareri Children's Hospital Pediatric Intensive Care Unit. In a fourth post that day, Lacey says Garnett was put on life support.

Over the next several days, she reports on Garnett's sodium level and that he's in screaming pain. On Jan. 22, she shares that she plans to remove life support the next day. Garnett declared brain dead, she says, "his soul is already with the angels" and "I'm not ready to let him go."
G/O Media may get a commission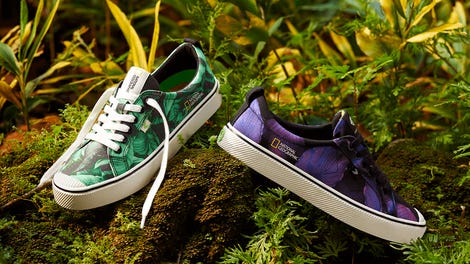 New New New
Cariuma + National Geographic
"Garnett the great journeyed onward today at 10:20 a.m," she wrote in her final post.
The Journal News investigation also turned up a whole heap of red flags. It's not clear that Garnett's supposed father, a dead police officer named "Blake," ever actually existed. Then there's this Twilight Zone tale about pics posted on MySpace before Garnett was even born:
The photos are titled "My World My Everything" and "He Completes Me." In one, titled "A Mother's Love Is Unexplainable," she kisses the boy.

When people told her how cute he was, and asked if he was her child, Lacey said yes.

There's just one problem with this maternal picture: It isn't true.

The toddler in the photos is Jonathon Strain, the boy Lacey Spears called "JonJon," whom she watched for nearly two years before Garnett was born in December 2008.
But otherwise JonJon's mom spoke well of Spears and expressed trouble believing the accusations.
Spears has pled not guilty.
Photo via AP Images.