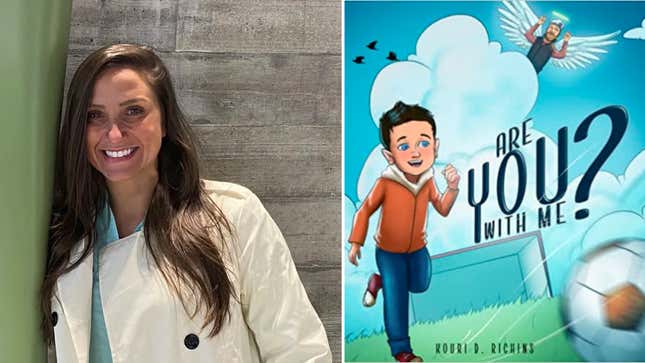 A Utah mother of three who authored a children's book on grief after her husband's death has been charged with killing him. On Monday, Kouri Richins was arrested on charges of aggravated murder and three counts of possession of a controlled substance with intent to distribute, multiple outlets reported. Police say she poisoned and killed her husband, Eric Richins, in March 2022 by giving him a drink with a lethal dose of fentanyl.

Swimmer Lia Thomas Clarifies that She Did Not Transition to Win Races
Richins' arrest comes just two months after the release of her children's book, Are You With Me? According to the book's description on Amazon, Richins wrote it with her three young sons to "create peace and comfort for children who have lost a loved one." The book tells children that while their loved one "is not present, their presence always exist [sic] and they walk through life with you as if they were here." Illustrations in the book depict her late husband as an angel, including one captioned, "Always on our minds. Forever in our hearts."
The book depicts Eric's death as a great loss to Richins and her family, in fairly sharp contrast with the jarring version of events presented by law enforcement this week. Investigators say that, last year, Richins bought $900 worth of fentanyl from an associate, then served her husband a Moscow Mule to celebrate her closing a business deal. The drink, they said, contained five times the lethal dose of the drug. Prior to his death, investigators learned that Eric had told friends he was concerned his wife was trying to poison him after he became sick from a Valentine's Day dinner she'd prepared for him.
Richins called police to report that Eric was unresponsive, and told investigators at the time that she'd spent the night in the bed of one of her three young sons who had been struggling to sleep. She also claimed she left her phone in her shared room with Eric, but investigators found it had been locked and unlocked several times and she'd sent then deleted multiple texts that evening. According to court documents obtained by NBC News, in her text communications with the person who sold her the fentanyl, Richins asked for "the Michael Jackson stuff."
If news of Richins' arrest for allegedly killing her husband—only to then write a book mourning his death—sounds uncomfortably familiar, it's probably because she's not the first author to get caught in an unsettling and morbid web of lies lately. Last summer, Nancy Brophy, the romance novelist who wrote How to Murder Your Husband, was sentenced to life in prison for killing her husband. Earlier this year, a different romance novelist revealed she'd previously faked her own death two years ago and is alive.
It's certainly attention-grabbing. But for all the irony and internet jokes, each of these stories—and certainly that of Eric Richins, who was father to three, still-young kids—is undeniably tragic.