This is a tale of maternal love—in all of its shades of truly obsessive commitment—embodied here by New York mother Lucinda Ballard. This is the tale of a woman who loves her child so much that she searched through a New Jersey garbage dump to recover her daughter's $4,000 Oscar de la Renta wedding dress.
The dress, which the New York Post describes as a "spectacular white-tulle embroidered A-line gown," was worn by Ballard's daughter (also named Lucinda) at her Nantucket wedding on May 30. After the very expensive nuptials, the dress was packed up and sent back to her parents' house. They were supposed to care for the dress, to love it as they had loved their daughter
The Post reports:
In the chaos of getting their bags into the Upper East Side apartment, a handyman accidentally threw out the gown, mistaking the word "dress" for "trash," she said.

[...]

The mom Ballard called it "a totally understandable, forgivable human error" but admitted she "was horrified."

"How could I let this happen?" she said. But the mom, a volunteer tour guide at the Met Museum, wasn't about to give up. "I thought, 'This dress is a symbol of a beautiful love story. I can't get let it go to garbage heaven,'" she told The Post.
Catastrophe, indeed.
So Ballard did what any loving Upper East Side mother would do: she called the building supervisor who called the city's sanitation department. That's when her arduous journey began.
G/O Media may get a commission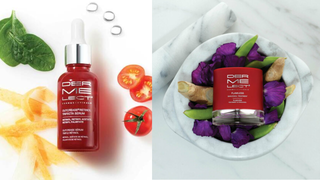 Save $19
Retinol Renewal Kit
The sanitation dispatcher identified the garbage truck's number and directed Ballard to a New Jersey garbage dump. There in the dump, she would find the gown, that perfect symbol of love. Ballard accepted the challenge with a noble grace.
She grabbed her building supervisor and headed to New Jersey. There, the determined mom grabbed the sanitation supervisor on site and the trio bravely jumped into a smelly "sea of black garbage bags." But they would not be repelled; no, the stakes were too high.
"We were ripping through these bags — wearing masks, high boots and gloves. I was moving quickly, going, 'No dress, keep going,'" Ballard said. The trio raced against the setting sun—looking, looking—garbage scattered everywhere, its stench filled their noses.
And finally.
Finally.
After a whole hour spent combing through filth—the longest and most difficult hour of Ballard's life—there it was, "the shining alabaster dress." Ballard beamed and reached for the cloth, recovering it from the filthy refuse. Manhattan's refuse.
The dress was beautiful. She wept. Tears of relief, tears of love, tears for the daughter who had just worn this luminous gown streamed down her face. Now her daughter would understand.
Ballard called her daughter. Lucinda thanked her mother; how could she ever repay such maternal loyalty? Lucinda had just the answer: she posted a picture to Instagram. In the post, she called her mother "my hero."
Image via Shutterstock.