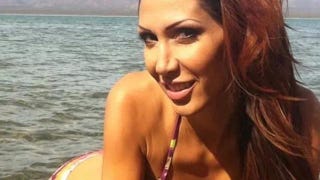 Yeah, that didn't really work out.
Anett Pikula, according to the Daily News, became "overly talkative" when she was pulled over at an Arizona border crossing—likely related to the fact that she had $134,000 worth of cocaine in her car.

"Flirtation was what was going on," Customs and Border Protection spokesman Garrett Reinhart.
Officers, finding something suspicious about the situation, sent a border patrol dog sniffing around her car. They then found 13 pounds of shrink-wrapped cocaine.

Born in Mexico, Pikula earned her U.S. citizenship in April. She lives in Phoenix, and is now in the hands of federal Immigrations and Customs Enforcement.

---
Contact the author at Hillary@jezebel.com.
Image via Instagram.