Brazilian-born model Lea T. says that before her first campaign broke in magazines, her friend the Givenchy designer Riccardo Tisci offered to simply tell the press that she was a woman. But Lea told him absolutely not.
Lea T., born Leandro Cerezo in Belo Horizonte, Brazil, is the daughter of soccer star Toninho Cerezo. She was raised in Florence, and attended art school before meeting designer Riccardo Tisci a decade ago, who was then working on his namesake line. She began working as Tisci's assistant. "And then," she explains, "I started doing my change." She says in this new interview with Models.com's Wayne Sterling that Italy is actually where she has faced the most discrimination because of her trans status — more so than in the U.S., other European cities, or Brazil:
"They look at you, they laugh at you in the street, they point at you in the street, when you're in an airport, they make joke about you when they see your passport. It's really tough. I cannot take the metro. Last time I took the metro it was like three weeks ago, and a guy sat next to me and he started to scream on me, like, 'Oh, the tranny has to die, because you are a prostitute, prostitute, you need to die,' like this. And the metro was full of people, and nobody did anything. Even when the guy he left, nobody come to see, 'Are you okay, you need something?' Nobody."
When Tisci cast Lea in the fall, 2010, Givenchy campaign, she had never modeled before, but she said she was happy to work with her old friend — and to earn some money in doing so, now that Tisci was in charge of a major European luxury house with backing from Louis Vuitton Moët Hennessy. Since doing the campaign, Lea has modeled for the brand on the runway, appeared on magazine covers, been mobbed by paparazzi after walking in Alexandre Herchcovitz's swimwear show, and posed fully nude [link NSFW, obvs] for Vogue Paris. But before all that, before she knew that the Givenchy campaign would trigger a sudden change in career, Tisci called her on the phone with a question:
"He told me, 'Are you sure — can I ask you, because I have to speak about the campaign, I wanna know if you, if you wanna...what I have to say. You want I say you're a girl?' I said, No no no. The first thing I want you to say is that I'm a transsexual. That's the most important thing.
"Maybe another transsexual has the same situation as me. Because if you are feeling that you are in the wrong body, you have identity problems, it can be really serious. [...] You can have all these things: you feel you're ugly, you feel you're wrong, people make you feel you're wrong, you feel you have no chance in life. Maybe a young transsexual, maybe a 20 years old transsexual, she can see — she open the magazine and she see, 'Oh, she's a transexual!' I know it's much more important, say, this transsexual become a doctor, or this transsexual become, a serious, important — but this maybe make her feel more comfortable for just a few seconds. I really want to say I am transsexual. It is the most important thing."
G/O Media may get a commission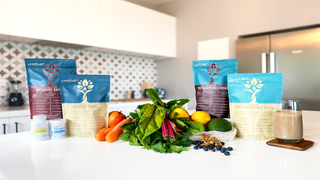 Lea T. Models.com Interview [YouTube]