It's been about a year and a half since the Caster Semenya clusterfuck, during which Olympic silver medal sprinter Semenya was forced to undergo gender testing in 2009 because her athletic skill led some to believe she was intersex (she was later cleared for competing in the women's category).
And we learned something from that, I hope, besides the fact that you better watch the fuck out if you're not a female athlete who looks "like a girl", and plays sports "like a girl."
Female MMA 5-0 featherweight champ Fallon Fox told Sports Illustrated this week that she underwent male-to-female sexual reassignment surgery back in 2006. Although experts say that the level of testosterone that Fallon's at by now is obviously significantly lower than the male levels—even some of females'—the fairness of Fox's competing in the female category has come into question, and her fighting license may be revoked.
Last year, the Association of Boxing Commissions drafted a transgender policy, but this is the first time it's been needed: it requires Fox to provide her complete medical history as well as a board certified endocrinologist to testify that she's been on hormone therapy for 2 years or more.
Others are arguing, as Sports On Earth explains, the same gender binary necessary to have segregated male and female athletics, which ultimately empowers female athletes, is the main case against Fox:
This whole debate is a clash of two progressive values — fluid definitions of sexual identity and the Title IX revolution. Every female athlete in the world has benefited from a form of discrimination and segregation. Without strict division, men would claim virtually every prize in sports. They did so for ages, before women could compete.
G/O Media may get a commission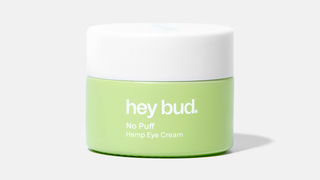 15% off
Hey Bud - No Puff Hemp Eye Cream
Fox's manager and various MMA promoters have thrown their weight behind her ("She's a sweet woman" "She has to live in her own skin and I support her 100 percent." "As long as she's licensed, she's always welcome in our promotion.") Fox, who has a sixteen-year-old daughter born before her gender reassignment surgery, says: "I want to go as far as I can go, just like the other female fighters. I just want the same opportunities."
'How Fallon Fox became the first known transgender athlete in MMA' [Sports Illustrated]
'Gender Equity' [Sports on Earth]