Two score and six years ago, Martin Luther King stood on the steps of the Lincoln Memorial and gave his "I Have A Dream" speech. Today, two-thirds of African-Americans think that dream has been fulfilled.
But has it?

"Has that dream been fulfilled? With the election of Barack Obama, two thirds of African-Americans believe it has," CNN senior political analyst Bill Schneider said.

"Most blacks and whites went to bed on election night saying, 'I never thought I'd live to see the day.' That's what the nation is celebrating on this King holiday: We have lived to see the day," Schneider said.
But Martin Luther King's dream wasn't limited to a black President. He said:

One hundred years later, the life of the Negro is still sadly crippled by the manacles of segregation and the chains of discrimination. One hundred years later, the Negro lives on a lonely island of poverty in the midst of a vast ocean of material prosperity. One hundred years later, the Negro is still languishing in the corners of American society and finds himself an exile in his own land.
G/O Media may get a commission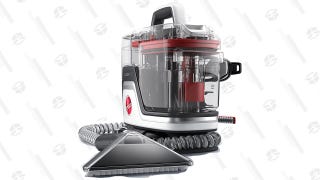 Save $10
Hoover CleanSlate Plus Carpet & Upholstery Cleaner
Has discrimination ended? Does a larger proportion of the African-American population live in poverty still?
And although voter turnout in the African-American community was high this year, African-American voters were stymied in their access to the polls in many states due to voter purges and ID requirements that disadvantage poor and minority voters — and there's no guarantee that this year's turn-out will be matched in 2010 when 435 House members are up for re-election, 33 Senate seats are up for grabs and 32 governors races. So, has this concern of King's changed?

We can never be satisfied as long as a Negro in Mississippi cannot vote and a Negro in New York believes he has nothing for which to vote.
And do people really believe that, in America in 2009 that the crux of King's dream has been fulfilled?

I have a dream that my four children will one day live in a nation where they will not be judged by the color of their skin but by the content of their character.
I think we all know that in too many places in this country, people are still judged first by the color of their skin.
Barack Obama gave a statement today in which he implicitly acknowledged that his election alone is not the fulfillment of King's dream, and renewing his call for Americans to spend the day in service to one another and, in talking about his inauguration, said:

We resolve that as we walk, we must walk together. And as we go forward in the work of renewing the promise of this nation, let's remember King's lesson - that our separate dreams are really one.
King's dream is our dream, and it's still one we can look forward to (and work toward) fulfilling. Obama's inauguration isn't — and shouldn't be — a moment to tie up our history with a bow and become complacent that our problems as a society are solved. It should be, however, a moment to look at the people around us and recognize that there's a lot more behind their eyes than what's evident on the outside.
I Have A Dream [MLK Online]
Most Blacks Say MLK's Vision Fulfilled, Poll Finds [CNN]
Obama Statement on Martin Luther King Day [Time]
Earlier: There's Nothing Some Fear More Than Citizens Exercising Their Constitutional Rights