Your most productive plans for the Fourth of July might involve a vodka-infused watermelon, but Mitt Romney probably won't be doing much relaxing during his annual family vacation at his lakefront home near Wolfeboro, New Hampshire (which includes a terrifying-sounding activity called the "Romney Olympics," Oh My God): Romney has invited New Hampshire Senator Kelly Ayotte to march with him in the small town's Fourth of July parade. That doesn't just mean he wants her on his potato sack race team; Ayotte will be the first vice presidential short-lister to appear publicly with Romney during his vacation, and her stay will give the two some private time to discuss the future.
According to ABC, Ayotte will be accompanied by her kids and husband, Joe Daley, who is a small business owner (niice) and a war veteran (perfect). She's used to hanging out with Romney; she met up with him multiple times on the primary campaign trail and endorsed his candidacy way back in November. Ayotte also recently passed a crucial VP test: mobilizing the anti-choice base without saying anything too batshit insane that could reflect poorly on Romney. "How we treat the weakest among us is truly a reflection on who we are as a nation and President Obama's record shocks the conscious when it comes to protecting life and unfortunately on many other issues as well," Ayotte told the crowd at last week's National Right to Life conference. (ABC says Romney sent her there.) "He has a vision of America that is very different from what we want for our children and our grandchildren. I shudder to think what would happen in a second term." A+!
Even though Ayotte sounds promising (especially re: tomorrow's photo op; it's going to look like freaking Music Man), Romney's also still considering a ton of other dudes according to Roll Call: some rich, some poor, and some crazy.
There's Ohio Senator Rob Portman, who served as director of the Office of Management and Budget and U.S. trade representative under Dubya and had a minimum net worth of $6.72 million at the end of 2011, most of which is thanks to real estate holdings. But maybe voters would appreciate someone more like Florida Senator Marco Rubio, who has a dismal net worth of negative $400,000 thanks to student loans and mortgages. "While he's among the least wealthy Senators, it's not as if he has financial problems," said a spokesman. "His personal finances just have more in common with the people he serves than the people he serves with." (Obama picked Biden even though he had a negative net worth. But then again, Obama never told students to borrow from their parents to get ahead in life.)
Romney is also said to still be considering Gov. Chris Christie of New Jersey and Bobby Jindal of Louisiana, Rep Paul Ryan, Sen. Jone Thune, and Magic Mike.
G/O Media may get a commission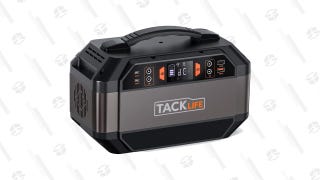 Tacklife Portable Solar Generator
Vice Presidential Hopefuls Include Wealthiest and Poorest Members of Congress [Roll Call]
New Hampshire Senator Kelly Ayotte To Join Romney In New Hampshire On July 4 [ABC News]