Jezebel Quickies is a new video series in which we get to know our favorite musicians, artists, actors and other creatives in a snap amount of time.
On an overcast New York afternoon, I lost the American Ballet Theater's first black principal ballerina.
"Hello, this is Misty Copeland," said the voice on the other end of my cell phone. "Is this Hillary, are you on the second floor?"

"Yes! Wait, are you sure you're on the second floor?" I asked a few minutes later after not finding her at Gawker's entry way. When I asked if our receptionist had seen her, she exclaimed "Oh my god, Misty's coming!"
"Yes! But have you seen her?" I said. She shook her head, so I went downstairs to our building's main entrance and asked our security guys if they'd seen Prince's favorite ballerina. They hadn't, they excitedly told me. Fortunately, Misty was just outside.
G/O Media may get a commission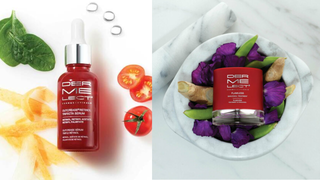 Save $19
Retinol Renewal Kit
At 5 feet 2 inches, Copeland is all toned muscle, smiles and sincerity. She is so gracious and easygoing it's easy to forget that she's a groundbreaking, history-busting icon. It's this sort of casual charm that makes her fans—grown men and the Jezebel staff included—turn into giddy Justin Bieber-infatuated tweens when she elegantly walks into a room. She's the quintessential internationally known celebrity who is hardly home, but always repping for the black ballerinas who cleared her path. The in-real-life Disney princess spoke to Jezebel between practices at the American Ballet Theater, where she's danced for the past 14 years.
In 2012, she became the first black dancer to star in ABT's Firebird, that's when she met journalist-turned-filmmaker Nelson George, director of her new documentary A Ballerina's Tale.

"We came together not knowing what the end result would be at all," she said. "He just started filming me one day after I had surgery [in 2013] so we agreed that I'd allow him to capture this part of my life. I was recovering from the most major injury I'd ever had in my career. I didn't know if I'd be able to come back fully. The documentary has been this baby that Nelson and I have birthed together."
In June 2015, she became the first black Odette in Swan Lake and later that month the American Ballet Theater announced Copeland as one of the company's principal dancers. She is also the first black woman to earn that distinction. The promotion came after years of Copeland's hard work and sacrifice, along with the patience and support of her longtime boyfriend and now fiance Olu Evans.

Copeland and Evans, who is a cousin of Taye Diggs, were recently engaged. The dancer says he kindly waited to propose until she'd achieved her goal of becoming a principal at ABT. Though they are a couple, the two wanted to achieve their success separately, her as a ballerina and him as a corporate attorney.

Ultimately, I tried to press her on how she remains so unflappably ethereal amongst us mere mortals when many other celebrities are not.

"I'm not always perky," she said. "I said yesterday to my fiancé Olu, 'I just want to enjoy everything that I'm doing.' I have to come at things with that attitude. Most days I'm exhausted but I'm doing what I love so I have to be in the moment and enjoy these things as they're happening because they're not going to last forever. I'm not, like, at war fighting, I'm dancing, doing what I've always wanted to do. Why not be happy and perky?"
Copeland did admit that while she's proud to be the first in so many ways, it is tough to be the voice of black dance community. But dutifully, she pulled out her phone when asked who inspired her and listed all of the black women who've paved the way for her pirouettes across Lincoln Center's stage.
"I'm sure there are so many more but it's so important for me to use this platform to be the voice for all of those women," she said.
Here's Copeland's list of groundbreaking black dance foremothers:

A Ballerina's Tale is set to open wide in theaters and on demand on October 14. American Ballet Theater is scheduled to open on October 21.
Full disclosure, the Jezebel staff also fed her Rainbow Doritos, which she loved, and we were immediately ashamed afterward. Jezebel is full of women with garbage food habits.
---
Contact the author at hillary@jezebel.com.
Image via Getty.