Jurors were unable to come to an agreement on the fate of a Mississippi man accused of burning a teenager to death in 2014, forcing a judge to declare a mistrial.

Quinton Tellis, 29, has been charged with capital murder for the death of Jessica Chambers, a 19-year-old whose demise was so grisly it moved several of the first-responders testifying to tears. Chambers was covered in gasoline and set aflame just north of Courtland, Mississippi, on December 6, 2014, dying in an area hospital after walking out of a wooded area so badly burned she looked like a "zombie," CBS News reports.
Jurors failed to reach an unanimous ruling regarding the case, announcing twice that they'd reached a verdict, only to reveal later that the decision was not unanimous. The whole thing sounds like a mess:
Circuit Judge Gerald Chatham then re-instructed the jury that their decision must be unanimous and sent them back to deliberate. When they returned minutes later, they announced a unanimous verdict of not guilty. But a polling of each individual juror found seven of the 12 jurors had voted to convict Tellis.

The jurors were again sent back to deliberate, and when they returned around 5 p.m., they announced a deadlock. Chatham then dismissed the jurors and declared a mistrial.
The deadlock stemmed partially from something firefighters said Chambers told them as they attempted to rescue her, testifying that she said someone named "Eric" or "Derek" had burned her. Defense attorneys pointed out that "Quentin" doesn't sound a lot like either name.
"'Eric' is not on trial today, but ladies and gentlemen, he should be," attorney Darla Palmer said during closing arguments.
G/O Media may get a commission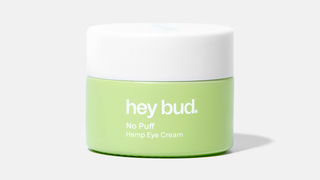 15% off
Hey Bud - No Puff Hemp Eye Cream
District Attorney John Champion, though, argued that an abundance of evidence still points to Tellis as the suspect. From CBS:
Citing statements Tellis made to investigators, Champion said Tellis and Chambers had sex in her car the evening she was found burned. Champion said he believes Tellis suffocated Chambers and thought he had killed her.

Tellis then drove Chambers' car with her inside it to the back road, ran to his sister's house nearby, jumped in his sisters' car, stopped to pick up gasoline from a shed at his house and torched Chambers' car and her, Champion said.
Tellis has pleaded not guilty to the charges, saying he only saw Chambers in the morning before she died. He later acknowledged that he had seen her early that evening, though the prosecution created a timeline using video and phone data to show they were together that night, before Tellis allegedly set fire to her car.
Prosecutors said a retrial will be held.