On Friday, Missouri's House Speaker Todd Richardson (R) recommended that members and staff of the chamber have mandatory sexual harassment training. Though a surprisingly progressive action, Richardson's decision was in response to two sexual harassment scandals in the chamber this year, both involving interns. "While I am speaker, sexual harassment will not be tolerated," Richardson said during his announcement.
Richardson's predecessor, John Diehl, was forced to resign in May after the Kansas City Star reported that he'd engaged in a relationship with his 19-year-old intern. The two exchanged "sexually charged" text messages (there were a lot of emojis) and, as a result of their relationship, the internship program in the House was temporarily canceled.
On the heels of the Diehl scandal, Sen. Paul LeVota (D) resigned after a Title IX investigation at the University of Central Missouri revealed that he had sexually harassed a pair of interns. The Star wrote at the time, "dozens of women" said "sexual harassment has been rampant in the Missouri Capitol for years."
In an effort to save Missouri Capitol from further sinking into a bad, modern parody of a Mad Men episode, Richardson has done the right thing, proposing a number of reforms designed to address the problem. The Associated Press reports that Richardson "wants to ban house members from having romantic relationships with staff or interns, and to prohibit staff from having such relationships with subordinates." He also recommended that sexual harassment claims be investigated by an outside panel in addition to more oversight of the intern program.
Richardson worked closely with the Women's Foundation in Kansas City to draft the proposals. The group's President and CEO, Wendy Doyle, praised Richardson's "efforts to address inappropriate behavior" toward interns. U.S. Senator Claire McCaskill tepidly praised Richardson's decision, calling the reforms "a step in the right direction."
G/O Media may get a commission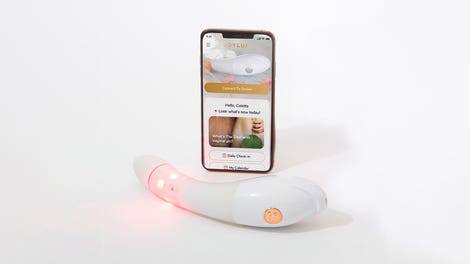 $50 Off
Joylux vFit Gold Device
Though Richardson's reforms address the apparently wide-spread problem Taylor Hirth, one of the women harassed by LeVota, "raised concerns about another one of Richardson's recommendations in which he called for expanding who is required to report harassment claims to include a number of House staffers and all House members." She told the AP:
"Sometimes they just want the support and to be able to talk to somebody about it without worrying that that conversation is going to be released to somebody else."
Members and staff of the Missouri House are currently offered sexual harassment training, but it is not required. The Missouri House hopes to vote on Richardson's recommendations by December 1.
Image of Todd Richardson via AP.