In the embarrassing wake of two scandals involving two different Missouri lawmakers who have both been forced to quit after accusations that they sexually harassed their interns, the Missouri House is discussing instituting a new dress code. For the interns. That's it. That'll do it.
The dress code suggestion comes after House Speaker John Diehl sexted with a 19-year-old intern and was found out, which resulted in the internship program being suspended and his eventual resignation. In July, a Senate investigation revealed that two more interns, who worked for him years apart, accused State Senator Paul LeVota of sexual harassment.
In 2010, 24-year-old Taylor Hirth said LeVota had subjected her to a barrage of unwanted sexual harassment, including the following text exchange she shared with the Kansas City Star:
Hirth told LeVota that she makes it a point not to drink alone with married men.

He quickly responded.
"Good rule," LeVota texted. "Let's say this. You are smoking & funny & smart, all around cool chick. As far as 'the moves,' I'm in if you are. If not, remember that I think you're a cool chick, I like you, & we can be friends. Got it?"

After a couple of innocuous texts, LeVota tried again.

"So you have a rule," he texted. "That's pretty much iron clad."

She responded, "Yessiree."

"Well if there ever is a loop hole, don't be so hard on yourself," he texted back.

Hirth said the exchange opened her eyes.

"That was when it became apparent that it wasn't innocent and it was only going to get worse if I continued to ignore it," she said.
In February, college senior Alissa Hembree found herself the subject of LeVota's still-creepy attentions. She told the Kansas City Star that she cut off 22 inches of her hair to "seem more invisible" to the senator and stopped wearing dresses and heels to the office. That didn't work. She cut her internship short, working two months instead of the planned five. LeVota, too, ultimately was forced to resign.

Now, the Star reports, House Republicans are pretty sure they've gotten to the root of the problem: it's the way the interns are dressing. Rep. Kevin Engler sent out a list of proposed reforms to a committee tasked with rehabbing the internship program, then asked if his fellow lawmakers had any other suggestions. From the Star:
Among the first suggested additions to Engler's list came from Rep. Bill Kidd, an Independence Republican, who responded almost immediately, "Intern dress code."

He was seconded by Republican Rep. Nick King of Liberty.

"We need a good, modest, conservative dress code for both the males and females," King wrote in an email to colleagues. "Removing one more distraction will help everyone keep their focus on legislative matters."

Rep. Kathy Swan, a Cape Girardeau Republican, said in an email that dress codes are common HR policies in the workplace.

"The most valuable and valid internship experiences are ones where interns are embedded in the work environment, which includes the same/similar job expectations as employees, including dress code," Swan said.

But enthusiasm for the idea wasn't shared by Democratic lawmakers.

"We're really not going to require interns to dress so we're less distracted, are we?" said Rep. Bill Otto, a St. Louis County Democrat. "All we need is a code of ethics and a penalty provision."

Rep. Sue Meredith, a St. Louis Democrat, said she was getting the feeling "the finger is being pointed at the young, female interns." The dress code, she said, should be "the same as for everyone in the House."
G/O Media may get a commission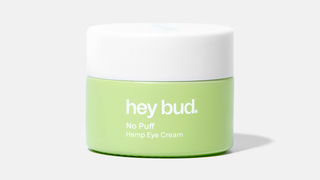 15% off
Hey Bud - No Puff Hemp Eye Cream
The handbook given to the new interns this year, the Star reports, will state that lawmaking is "a professional activity, and those engaged in it must dress professionally and appropriately:"
Men are required to wear a jacket and necktie for admission to the side galleries of the House Chamber. Women should dress in appropriate business attire (such as dress, suit, dress slacks and jacket)."
Presumably when that doesn't work, the House will consider a dress code for lawmakers that involves a sturdy chastity belt and the blinders that carriage horses wear.
---
Contact the author at anna.merlan@jezebel.com.
Public PGP key
PGP fingerprint: 67B5 5767 9D6F 652E 8EFD 76F5 3CF0 DAF2 79E5 1FB6
Missouri House Speaker John Diehl on May 15, 2015, the day of his resignation. Photo via AP Images