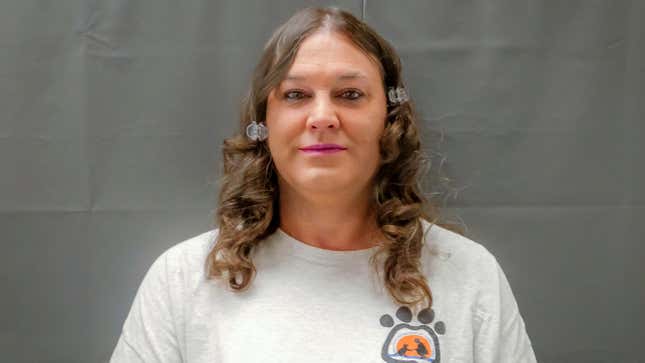 Not even a full 72 hours into 2023, the state of Missouri carried out the first execution by a state this year. Missouri executed Amber McLaughlin—the first ever transgender prisoner put to death in U.S. history—by lethal injection.
Overturning Roe V Wade Will Change Clinic Escorting
McLaughlin stalked and then stabbed a former girlfriend, Beverly Guenther, to death in 2003. Guenther was granted a restraining order because of McLaughlin's repeated stalking, including showing up and hiding at her workplace. The AP reported that police even "occasionally" escorted Guenther to her car. In November 2003, police found a broken knife handle and blood near her car, after neighbors were worried when Guenther didn't come home. McLaughlin later led authorities to the part of the Mississippi River where she dumped Guenther's body.
McLaughlin was convicted of first degree murder for Guenther's death in 2006, but the jury deadlocked on her sentence. It was the trial judge who imposed the death penalty. Only Missouri and Indiana allow a judge to sentence a felon to death instead of a jury of their peers, according to the Death Penalty Information Center.
McLaughlin's attorneys filed a clemency petition in mid-December, citing "compelling mental health evidence" and repeated traumas in McLaughlin's life, including severe child abuse and multiple suicide attempts. Her death sentence was overturned by a federal district court in 2016, saying it was "grievous" that McLaughlin's trial attorney did not adequately detail evidence about her mental health, but she was still scheduled for execution, because the U.S. Court of Appeals for the Eighth Circuit reversed that court's decision.
The Supreme Court chose not hear her claims, and Missouri Gov. Mike Parson (R) told the AP that he would not stop the execution. His office released a statement using McLaughlin's deadname on Tuesday morning. "McLaughlin's conviction and sentence remains after multiple, thorough examinations of Missouri law. McLaughlin stalked, raped, and murdered Ms. Guenther. McLaughlin is a violent criminal," he said. "Ms. Guenther's family and loved ones deserve peace. The State of Missouri will carry out McLaughlin's sentence according to the Court's order and deliver justice."
The state and federal penal system has executed more than 1,500 men and 17 women since the 1970s, when capitol punishment was reinstated. No trans inmates have been executed thus far. In Missouri, only one woman has been put to death—in 1953.
The fate of the death penalty in America is varied: Some states, like Missouri, have multiple executions already scheduled for this year, while Oregon has cleared its death row and closed its death chamber. Last month, Oregon Governor Kate Brown commuted sentences of 17 prisoners, re-sentencing them to life without parole. Included in that 17 is Tara Zyst, a trans woman convicted of murder and sentenced to death in 1995.
McLaughlin started to transitioning "about three years ago," the AP reported. Jessica Hicklin, a formerly incarcerated trans woman, was a mentor to other trans people in custody, including McLaughlin. Hicklin sued the state department of corrections, saying incarcerated people should be allowed to have hormone therapy in prison, even if they weren't receiving it prior to entering the facility. Hicklin's lawsuit was successful in 2018, but McLaughlin's attorney said she had not started hormone therapy.
Hicklin said McLaughlin flourished after she decided to transition. "She always had a smile and a dad joke," Hicklin told the AP. "If you ever talked to her, it was always with the dad jokes."