The U.S. Department of Justice and the Missoula Police Department have reached an agreement that the cops will stop being so horrible to rape survivors, starting with actually acknowledging that they might have been raped.
The agreement is similar to the one that the DOJ and the University of Montana cemented last week (both investigations were launched last May, following a number of highly-publicized alleged rapes in the area) except that investigators had harsher complaints about the way the city handles sexual assault reports.
"MPD's investigations are marked by practices that significantly compromise the effectiveness of MPD's response to sexual assault and contribute to the under-enforcement of sexual assault laws in Missoula," the DOJ said in a letter to Missoula Mayor John Engen.
Some issues the DOJ found (via The Missoulian):
• In one case involving a UM student who said she was assaulted at a fraternity house, the woman told police she'd repeatedly said "no" and pushed at her assailant, who was more than twice her size. But the detective's case report termed the incident "mostly voluntary fueled by alcohol," and left out statements about her resistance.

• Women reporting sexual assault were commonly asked whether they wish to seek prosecution, leading them to believe it was up to them, rather than the County Attorney's Office, whether to prosecute.

• The police department required victims and witnesses to be interviewd at the police station, a "practice more appropriate for an interrogation of a suspect than an interview of a crime viction." Women typically were interviewed without an advocate, even though under Montana law they had the right to an advocate's presence.

• Police relied on women's sexual histories in evaluating reports of sexual assault. "That reliance in turn reflects assumptions and stereotypes about women, such as assumptions that women who are sexually active are less likely to be legitimate victims of sexual assault."

• The police "routinely failed to timely share information about sexual assault involving UM students with either university officials or with OPS (UM's Office of Public Safety)." Although in one case the police told the football coach about a report of sexual assault by student athletes, UM officials didn't learn about the allegations until nearly a year later.
G/O Media may get a commission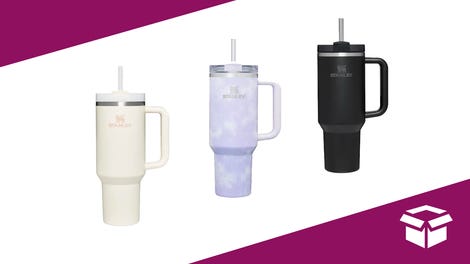 Up to 45% off
Stanley Cup Sale
The letter also mentioned that the DOJ was frustrated with the County Attorney's Office "lack of follow-up and prosecution" regarding sexual assault cases. Unlike police, Missoula County Attorney Fred Van Valkenburg has refused to cooperate with the Justice Department investigation — he seems to feel it's not legitimate, much like many of the rapes he's allegedly ignored over the years.
We'll be watching to see what happens.
Image via Katherine Welles/Shutterstock.