Mississippi plans to execute a woman despite evidence that her son confessed to the crime.
Michelle Byrom, 57, was convicted of hiring a friend of her son's to murder her husband in 1999. The problem, as multiple media outlets,including The Atlantic, have pointed out , is the jury was never presented key pieces of evidence that may prove her innocence. One major piece of evidence are letters written by her son Edward Byrom Jr., in which he confesses to the crime. The full letter can be viewed here.
I sit in my room for a good 1 1/2-2 hours, and dad comes in my room, and goes off on me, calling me bastard, nogood, mistake and telling me I'm inconciderate (sic), and just care about my self, and he slaps me, then goes back to his room. As I sat on my bed, tears of rage flowing, remembering my childhood, my anger kept building and building, and I went to my car, got the 9 mm., and walked to his room, peeked in, and he was asleep. I walked about 2 steps in the door, and screamed, and shut my eyes, when I heard him move, I started firing.

When I opened my eyes again, I freaked! I grabbed what cassings (sic) I saw, and threw them into the bushes, grabbed the gun, and went to town. I saw Joey, told him to hide the gun, and he said he'd take it to his spot, which I knew from when I'd sell him stuff, and went and told mom that dad was dead, and before her terry eyes could let loose I ran out of the hospital, and headed for the house, I was so confused.
There are at least four similar confession letters written by Byrom Jr., according to the Jackson Free Press, in which he states he is the one who killed his father. Any or all of them could probably have been enough to convict him or at least exonerate his mother; however, prosecutors were able to have them excluded as evidence, on the grounds that they had not been properly shared in advance of the trial and were inadmissible.
Prosecutor and former Assistant District Attorney Arch Bullard told the Clarion-Ledger he believed Byrom Jr. confessed to killing his father to "muddle the case."
G/O Media may get a commission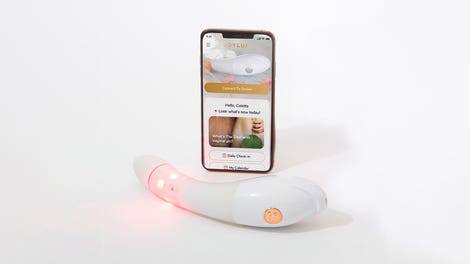 $50 Off
Joylux vFit Gold Device
Byrom Jr., Michelle Byrom and Joey Gillis, the friend who prosecutors say was hired for the murder, were all arrested as part of a conspiracy. Byrom Jr. testified against his mother, in exchange for a reduced sentence after he was arrested as part of the conspiracy to the kill his father. He is now free (on a supervised release). Gillis was released from prison in 2009.
Byrom Jr. was the only person who tested positive for gunpowder out of the three arrested for the conspiracy.
In addition to the omission of Byrom Jr.'s confession letters, defense attorney's also never presented evidence about Michelle Byrom's long history of abuse and mental illness.
According to an investigation by the Jackson Free Press, she was forced into prostitution by an abusive stepfather, eventually running away from home. Her husband,Edward Byrom Sr., (who she married when she was still a teenager) reportedly forced her to have sex with other men so he could watch:
Sexual and domestic violence filled Michelle's life. The abuse was so severe that she became mentally ill, doctors said. Evidence indicated that her stepfather, Harold Postalwait, sexually abused her for years and forced her to work as a prostitute.

When Michelle was 15, she ran away from home and became a stripper. That year, Michelle met Edward Byrom Sr., then 31, and moved in with him. Under Mississippi law, Edward Sr. was guilty of statutory rape; the age of consent is 16. Junior arrived three years later, and Michelle and Edward Sr. married when Junior was 5.

Continuing what her stepfather began, Edward Sr. verbally and physically abused Michelle. He forced her to have sex with other men, which he videotaped.
The abuse extended to their son, Edward Jr. As The Atlantic puts it:
[A]man willing to persistently abuse his wife is also apt to persistently abuse his children. And, indeed, the elder Byrom regularly hit his son and subjected him to horrible and continuous verbal abuse. Imagine a father saying to a son over and over, amid a pattern of physical abuse, "You were a fucking mistake to begin with!"
According to the Clarion-Ledger, Byrom had a history of self-harm, including ingesting rat poison. On June 4, 1999, the day of the murder, Byrom was in a hospital room, admitted for pneumonia and other problems after taking rat poison.
Believing she would not be convicted, her attorneys opted not to present any mitigating evidence, including the abuse she sustained as a child or the abuse Byrom Jr. endured:
Tishomingo County didn't see the murder as a case of an abused child turning on his tormentor. Instead, they saw a plot, a murder-for-hire conspiracy between the murder victim's wife, his son, and a friend of his son. They saw the shooter as Joey Gillis, the friend, even though Gillis had no gunshot residue on his hands. And they saw the plot's mastermind as Michelle Byrom, with motive to rid herself of an abusive husband. They based this theory on Edward Jr.'s verbal statements to investigators, the recordings of which were then lost or destroyed.
Michelle Byrom's attorneys waived her right to have a jury determine her sentence and a judge sentenced her to death. Her conviction was upheld by the Mississippi state Supreme Court, but not without strong objections from dissenting judges.
One dissenting member, Judge Jess Dickinson, argued that owing to poor legal counsel she deserved a retrial, according to an article on Think Progress."I have attempted to conjure up in my imagination a more egregious case of ineffective assistance of counsel during the sentencing phase of a capital case. I cannot," he wrote. The US Supreme court refused to hear the case, leaving her with little options.
"There's no way justice was done in this case," said former state Supreme Court Justice Oliver Diaz Jr. "If an execution is allowed to proceed, we all are complicit in it in Mississippi."
The U.S. Supreme court declined to hear her appeal. Unless the courts or Mississippi Governor Phil Bryant intervene, Michelle Byrom could be executed by lethal injection as soon as Thursday. She will be the first woman executed in Mississippi since 1944.
Byrom Jr. told the Clarion-Ledger he knew his mother was set to be executed but refused to comment further.
Image via AP Images.