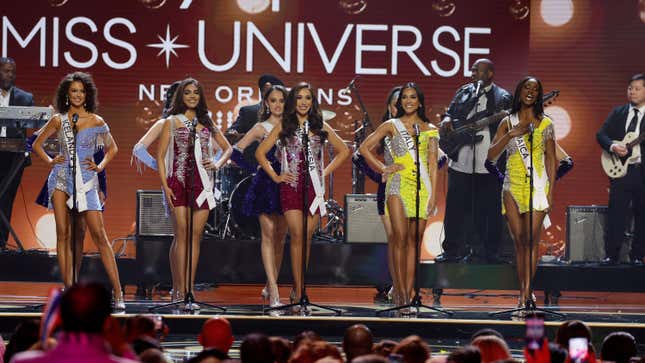 Pageants have long been considered archaic sites where women contestants strut around to be judged on their appearances alone. And while most of the major pageant systems have taken steps to modernize—and contestants are pushing their boundaries, too—sexual harassment allegations emerging from the Miss Universe Indonesia pageant, a feeder pageant into Miss Universe, show that these competitions are still ripe for gender-based abuse.
Roughly half a dozen women competing in the Miss Universe Indonesia pageant have filed complaints with the police over allegations of sexual harassment, their lawyer said Tuesday, according to the New York Post. While preparing for the competition, which took place in Jakarta in early August, seven finalists claim they were asked to strip down to their underwear for a "body check" before the final crowning ceremony took place.

According to Mellisa Anggraini, the womens' lawyer, pageant organizer PT Capella Swastika Karya insisted on checking contestants for "any scars, cellulite or tattoos on their bodies." Anggraini said the women were not told about this procedure ahead of time and were expecting to attend a final dress fitting for the pageant's conclusion. Instead, all 30 finalists were checked in an intimate manner, and five of the women were photographed while topless. Anggraini said more than 20 people were in the room at the time, including men.

Jakarta police spokesman Trunoyudo Wisnu Andiko told reporters on Tuesday that the contestants had filed a police report and that police would be investigating the situation further.

In response, the Miss Universe Organization announced it was cutting ties with its Indonesian chapter and had decided to end its contract with PT Capella Swastika Karya and national director Poppy Capella (Capella also holds the license for Miss Universe Malaysia). The Miss Universe Organization has promised to reevaluate its policies to ensure its contestants aren't violated in the future—and though there's plenty of fatphobia running rampant in the pageant world, they would also like you to know that there are technically no body dimensions required to enter their pageant.
On the Miss Universe Indonesia Instagram, Capella stated: "I emphasise that I, as the national director and license owner for Miss Universe Indonesia, was not involved at all and have never known, ordered, requested or allowed anyone who plays a role and participated in the process of organising Miss Universe Indonesia 2023 to commit sexual harassment through body checking as reported."

Pageants may not be the most forward-looking feminist environments on earth, but that does not mean its contestants should be subjected to sexual harassment under the guise of show preparations. If you strip away the crowns, gowns and coiffed hair, these women are human beings, and no one deserves to be harassed for their appearance or otherwise.
Still, the show must go on apparently…The annual Miss Universe competition will be held in El Salvador on November 18 later this year.