The Miss America Pageant airs this coming Sunday on ABC, and joining host Chris Harrison, co-host Brooke Burke-Charvet, "Music Curator" Nick Jonas and "celebrity judges" Brett Eldredge, Taya Kyle, Danica McKellar, Kevin O'Leary, Amy Purdy and Zendaya, will be Vanessa Williams. Before she was a famous actress and singer, Williams was the first black woman to be crowned Miss America, until the title was taken away from her because nude photos she'd taken before her reign were published in Penthouse.
Miss New York Vanessa Williams was Miss America for 10 months in 1984, before Penthouse got their hands on nude photos shot by photographer Tom Chiapel in 1983—photos she later said she was told no one would ever see and that she had been pressured into taking. Chiapel reportedly tried to sell the images to numerous magazines, including Playboy, but Penthouse founder Bob Guccione is the one who bit, putting them together for a spread the September 1984 issue of the magazine called "Here She Comes, Miss America." As UPI reported, though the photos were taken before Williams was involved with the pageant, Guccione played off her newfound popularity:
It includes scenes from her public life after winning the beauty pageant juxtaposed with black-and-white nude photos.

In color photos, she is shown meeting with President Reagan and waving triumphantly to her fans. On the opposite page, is a frontal shot of her nude to the waist.

"For decades, we have anticipated each new found Miss America as a queen whose title embodies antiseptic virtue as well as beauty. In reality, however, she may not necessarily conform to this corporate sanctity," reads the text of the magazine's introduction.
The issue became the best-selling one Penthouse had ever had.
The Miss America Organization board voted unanimously to dethrone Williams—though they requested that she do the dirty work by stepping down voluntarily within 72 hours of their vote. As the AP reported, Williams said she wanted to keep her title, but "the potential harm to the pageant, and the deep division that a bitter fight may cause, has convinced me that I must relinquish my title."
"It is not my desire to injure in any way the Miss America title or pageant," she added, and asked "sponsors and the public to continue all of their support" of the event.

G/O Media may get a commission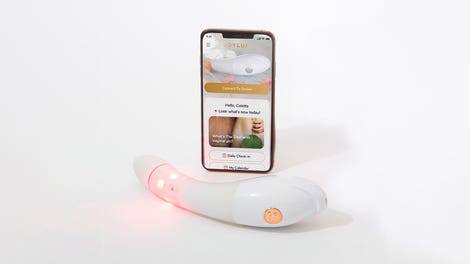 $50 Off
Joylux vFit Gold Device
But "As far as I was concerned, I'd done nothing wrong," Williams later wrote in the memoir that she co-authored with her mother.
Albert Marks, pageant executive director, said officials were "extremely distressed" about the photos due the impact they might have on the pageant, before labeling his own event "perhaps too pure."
Guccione, on the other hand, used the situation as an opportunity to expound upon his famously held beliefs about sexuality in America and freedom of the press. "I think the pageant is getting away with something, which I think is very unfortunate," he said, calling the organization "out of step with reality," and going as far as to offer Williams a job with Penthouse. Williams didn't appreciate his support; she filed a $400 million lawsuit against Penthouse and Chiapel, which she eventually dropped, telling Oprah years later it was because she was worried the trial would bring to light intimate details of her personal life.

Williams is still listed as 1984's winner on Miss America's website; the only reference to the scandal is this line in her bio: "Despite her resignation, she performed her duties as Miss America in an exemplary fashion." (She also got to keep the scholarship money and the crown; her runner-up, Suzette Charles, is listed as 1984-B.) And now, the Miss America Organization in 2015 is welcoming her back with open arms—but is still unwilling to remind viewers why she left in the first place.
"The Miss America Organization, dick clark productions and ABC announced today that for the first time since she was crowned Miss America 1984, one of the most respected and multi-faceted performers in entertainment today, Vanessa Williams will make history when she returns to the Miss America stage after 32 years," they wrote in a press release sent out Tuesday, without acknowledging exactly why it is has been so long since she's made an appearance.
"Vanessa Williams made history by becoming the first African American to win the competition when she was crowned Miss America 1984, and she went on to conquer the worlds of music, Broadway, television, and film," said Sam Haskell, Executive Chairman & CEO of the Miss America Organization. "It is a great honor to welcome her back to the competition as our Head Judge."

"We recognize that Vanessa's return to Miss America on Sunday, September 13th is a special cultural and television moment," said Mike Mahan, President of dick clark productions. "We are both honored and excited that she will take center stage for the 95th Anniversary of the competition."
It's unclear why Williams has decided to return to the Miss America stage at this particular juncture. As a 1989 People magazine profile laid out, she wasn't particularly excited to talk about the pageant shortly after being kicked out.
In her determination to set the bitter aftermath of her reign behind her, Vanessa has also banished all traces of the pageant victory. No photo of Williams as Miss America appears among the dozens displayed in her house.
But time heals all wounds, and Williams has become one of the most successful Miss America contestants of all time, with Emmy, Grammy and Tony nominations under her belt. As for the Miss America Pageant, ratings for last year's showing were down 15 percent from the year before. "There was obviously nowhere to go but up," Williams told People after her ousting. Miss America at large is obviously wishing the same.
---
Contact the author at dries@jezebel.com.
Image via AP