Uuuuuuuuugh, whyyyyeeeeeeee? When asked about whether or not she'd be down to dust off the old drop-waist jersey sun dress and platform 'flops for an O.C. reunion, Mischa Barton replied that it just didn't "feel right." DOES TUBING DOWN A LAZY RIVER OF MY TEARS FEEL RIGHT, MISCHA!? IS THAT WHAT FEELS RIGHT???
"You know — never say never," Barton, 27, told Us Weekly. "But, I think things have to feel right, and it doesn't feel right. You can't say that you feel one way or another about things, but before The O.C. I was on track to do some great films, as well, and one thing happens, and then I got this mega stardom all from this show. It is what it is, but I'm not looking to get sucked back into the limelight of it."

Creator Josh Schwartz recently told TVGuide.com that producers wanted to reunite the cast to commemorate the 10-year anniversary, "but in order to do that we wanted everybody to participate and to want to participate."
Since some of the original characters are dead, I'm assuming Schwartz is thinking of some sort of Andy Cohen Bravo oral history roundtable thingy. But I just want to throw this out there...O.C. reunion movie with (SPOILER) Marissa Cooper as a ghost haunting Sandy Cohen's eyebrows. THINK ABOUT IT, H-WOOD. [TVGuide]
---
That Paula Deen racial discrimination lawsuit got thrown out.
A judge just ruled ... Lisa Jackson had no right to claim racial discrimination, BECAUSE SHE'S WHITE! Any comments that Deen or her cohorts may have made had no legal consequence to her, because she's simply not the right color.

Jackson made a tenuous argument that someone in her family was bi-racial — something that may not be true at all. But the judge said even if it were true, she was at best an "accidental victim."

Short story — Jackson ruined Paula with a bogus claim.
Ehhhhhhhh, 'kay. [TMZ]
---
George Lucas and Mellody Hobson had a baby girl. [TheGrio]
Rihanna unveiled her new clothing line, for people who want to be a G4LIFE. [Vogue]
Felicity Huffman and her Daughters H. Macy went to the airport. [JanetCharlton]
So did Angelina Jolie and Maddox. [E!]
Here is Selena Gomez partying in a "retro bikini." [Us]
Here is how to "get" Miley Cyrus's haircut. Please do not go take it directly off of Miley Cyrus. [E!]
Oh my GOD, Jennifer Garner used a promotional Alias tote bag to carry her stuff home from the farmer's market. WHEN IS MY ALIAS REUNION HAPPENING, BTW. Also, why did Michael Vartan not become a huger star? Dude is stupid-handsome. These are the questions that keep me up at night. [E!]
I was going to pretend to be bored by Jennifer Love Hewitt's new nail art, but it's pretty boss tbh. [E!]
NOBODY LEAVE A BABY IN SHENAE GRIMES. SHE DOESN'T WANT IT. [ContactMusic]
Shakira went shopping for some new Zubaz. [JustJared]
I gotta go, man.

G/O Media may get a commission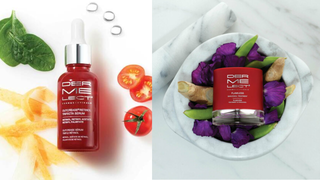 Save $19
Retinol Renewal Kit