Miranda Kerr, a model who was once married to Orlando Bloom, and Evan Spiegel, a non-model who once invented Snapchat, are truly, madly, deeply in love for reasons beyond my comprehension, and, like most celebrity couples, are often asked about their love by magazines.
Sometimes they say things that are only worthy of quick eye rolls, like:
"He's 25, but he acts like he's 50. He's not out partying. He goes to work in Venice [Beach, California]. He comes home. We don't go out. We'd rather be at home and have dinner, go to bed early."
But other times, they say things like this:
When asked if he doesn't feel like a younger man then, Kerr, 32, replied with "a wink," "Well, in some ways he does. I'm telling you, I've got the best of both worlds!"
G/O Media may get a commission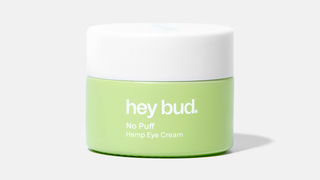 15% off
Hey Bud - No Puff Hemp Eye Cream
The best of both worlds? Miranda Kerr likes Evan Spiegel because he's an old man in the sheets and a young man...also in the sheets? Or, maybe, an old man on top of the sheets and a young man inside them? An old man right before brushing his teeth but a young man after?
I don't like this.
---
Brandi Glanville shared a very sad email she sent Eddie Cibrian last November with a site called Real Mr. Housewife, and, well, it's definitely a very sad email written by Brandi Glanville! In it, Glanville details the pain of celebrating the holidays without her children.

It's not a pleasant read, but here are the more notable bits.
Im not pissed Im not mad Im hurting yes I have emotions and holidays ESPECIALLY are so hard for me when Im not with my kids...As you are very aware I do not have family in town and when the holidays roll around and its your turn to have the kids I struggle,Im lonely for them, I cry I miss them sooooooooo much
I have a RHOBH google alert on my phone and to last night see your wifes social media post of her blended family it cut like a knife.
PLEASE PLEASE PLEASE just stop the holiday family posts any other time my children step mom has my blessing to snap their picture I get it I made cute kids they are perfect and they are mine.
Im begging you to be thoughtful and kind to what I go through especially around the holidays that is it- don't want to fight and I really do hope that one day you and your wife can experience having a baby of your own that you will have full time and never have to share. thats it B.
[RMH]
---
Meghan Trainor threw up right after her first kiss, which could definitely be the plot of a bad Meghan Trainor single called "I Threw Up Right After My First Kiss."

Also, why does Meghan Trainor...talk like that?
---
---
Contact the author at bobby@jezebel.com.
Images via Getty.