Minnesota Gov. Mark Dayton has appointed Lt. Gov. Tina Smith to fill Al Franken's soon-to-be-vacant seat. Smith, a former political operative who was also VP for public affairs at Planned Parenthood Minnesota, announced that she plans to run for her seat in the 2018 special election, a shift from earlier reports that she would just be a placeholder. Her appointment means that she and Sen. Amy Klobuchar will be the first pair of women senators in Minnesota's history, which feels appropriate, doesn't it?
"I have worked with many superb public officials during my 40-year career," Gov. Dayton said during his announcement. "Tina stands first and foremost among them."
MinnPost has a good primer on Smith that emphasizes her apparently wonderful interpersonal skills, which Dayton's speech reflected.
"She genuinely likes people, and people like her," Dayton said of Smith, whose appointment was received with enthusiasm by Sen. Franken and Rep. Keith Ellison, who some speculated would run for the seat if it were left open in 2018. "She has impeccable integrity and the highest personal and professional standards."
G/O Media may get a commission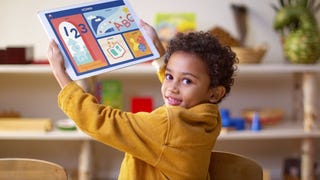 30-Day Free Trial
Homer Learn & Grow Program
"I think in some ways, this sea change is being led by young women who tell women of my generation that maybe some of the things we put up with during our lives we shouldn't have to put up with," Smith said. "And that is a good thing, and it is so important that we don't slide backwards."

She also addressed fears that progressive Minnesotans would resent a pre-selected 2018 candidate. 2018 will be an election year for both of Minnesota's Senate seats and the governorship, an opportunity that Republicans are heavily eyeing in a state that only went to Clinton last year by two percentage points (then again, they just lost in Alabama, so).
"Anybody who knows the voters of Minnesota knows that they can't be told what to do," Ms. Smith said. "My purpose is to go out and ask for those voters' support, and that is my job to do."