At an otherwise friendly panel at SXSW today, one audience member asked Mindy Kaling about the perceived lack of diversity on The Mindy Project—why was she the only female doctor and the only doctor of color? Kaling reportedly lost patience and called the criticisms "insulting."
There were a couple of minutes of pleasant response, with co-panelists and Mindy co-stars Ike Barinholtz and Adam Pally earnestly praising their female cast members. But by then, Kaling had lost patience: "I look at shows on TV, and this is going to just seem defensive, but I'm just gonna say it: I'm a fucking Indian woman who has her own fucking network television show, OK?"

The audience applauded, but Kaling was just getting started. "I have four series regulars that are women on my show, and no one asks any of the shows I adore — and I won't name them because they're my friends — why no leads on their shows are women or of color, and I'm the one that gets lobbied about these things. And I'll answer them, I will. But I know what's going on here." Some laughter (some of it nervous) echoed through the ballroom. "It is a little insulting because, I'm like, God, what can I — oh, I'm sitting in it. I have 75 percent of the lines on the show."
Good for Mindy for calling out that bullshit double standard—there are tons of beloved shows with all-white main casts, and people don't seem to demand the same commitment to diversity from those showrunners. But, on the other hand, there is something to the fact that when you break a barrier—like being a "fucking Indian woman who has her own fucking network television show"—people pile generations of frustrated hopes on you. They hope that you'll just keep going above and beyond that barrier until it's not a barrier anymore. That's not Mindy's responsibility (or within her power), necessarily, but you can't stop people from hoping. [FlavorWire]
---
Britney Spears wants to get married at Graceland, I guess. For the "attention."
"Britney wants to get as much attention and money for pictures with her third wedding as she did for her second, which is why she is considering reaching out to Elvis' daughter, Lisa Marie Presley, to ask if she can be married in the Graceland Estate in Memphis, Tennessee," the source disclosed.

"Getting married at the home of the late king of rock and roll in an elegant Southern-style ceremony would certainly generate one-of-a-kind pictures that Brit already plans to make the front page of magazines around the world."
G/O Media may get a commission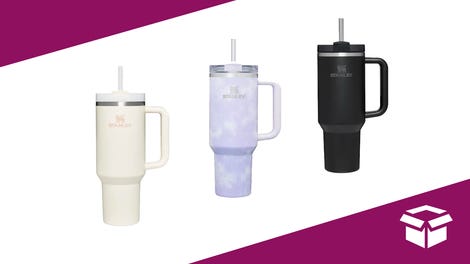 Up to 45% off
Stanley Cup Sale
You do you, Brit-Brit! [Radar]
---
Kris Jenner would like you to know that she helped plan Kanye's proposal to Kim and she knew everything before it happened and she gets goosebumps thinking about all the awesome things she helped plan that she already knew about in advance because she helped. [Hello!]
Hodor says he would have told you he was gay forever ago, but YOU NEVER ASKED. In conclusion, Hodor. [NewCivilRightsMovement]
Jennifer Connelly has all this weird shit stuck to her dress and I approve. [E!]
Tom Bergeron announced that he's leaving America's Funniest Home Videos, which apparently is still on the air and is called AFV now because "home videos" doesn't mean anything anymore. Bergeron was the host for 107 consecutive seasons. [Deadline]
"Behati Prinsloo & Alessandra Ambrosio Aren't Afraid to Show Off Their Toned Bods for Victoria's Secret!" Seh. Brehv. [JustJared]
Andrew Garfield and Emma Stone did a "new Spider-Man kiss" and I did not watch the video so I'm going to assume Andrew Garfield opens his mouth and then spiders just pour and pour out. [E!]
Amanda Bynes is, reportedly, "back." [CNN]
Busy Philipps looks great always. [JustJared]
Chelsea Handler sits down with Piers Morgan to declare: "I'm not racist." [CNN]
Rosie Huntington-Whiteley is "too hot to handle," SHOULD PROBABLY GO TO THE HOSPITAL OH MY GOD, MY GOD, THE BURNING [E!]
Things I cried at over the past four days: The Lego Movie, a photograph of Claire Danes circa 1996, and this Ben Folds song. NORMAL/NOT NORMAL?

Images via Getty.